Bid to make NZ a driverless car testing ground | Insurance Business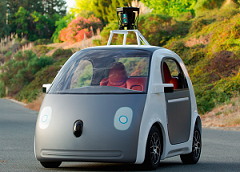 New Zealand could have
driverless cars
on its roads sooner than expected, following a meeting this month in California between transport minister Simon Bridges and Kiwi robotics expert Dave Ferguson, who works for Google.
Bridges has invited Google to test its
driverless cars
in New Zealand saying a big plus was that there were no rules in New Zealand's legal infrastructure to prohibit
driverless cars
.
Ferguson is developing the software that takes data from a series of cameras and sensors around the
driverless car
and uses it to drive the vehicle.
The Wellington-born researcher said New Zealand's high road toll made it a country with much to gain from the technology,
Fairfax Media
reported.
Bridges said another project that Google began testing in New Zealand in 2013, a balloon-powered internet service called Project Loon, meant there was already good history with the company.
"I wanted to ensure that our friends at Google know that we would like to see them use New Zealand as a test bed," Bridges said.
"Nothing is for certain, but we know that they have done it before and we have got a good relationship."
Bridges said
driverless cars
were 'definitely coming in the next wee while', not just in our lifetime.
Insurance manager at the Insurance Council of New Zealand (ICNZ), John Lucas, has predicted we could see driverless cars on New Zealand roads in the next 5-10 years.
However, he said there were issues around responsibility if a
driverless car
was involved in an accident that still had to be clarified.
While nothing in New Zealand law prevents
driverless cars
from being tested, it is still unclear on who would be considered to be at fault if an offence was committed by a vehicle without a human behind the steering wheel.
Industry-watchers have raised the issue of ethics – should the cars be programmed to make the decision that's best for their owners, or to make the choice that does the least harm?
Recent news of computer security researchers controlling a Jeep Cherokee while it was being driven by hacking into the wireless communication system has also raised other safety and insurance concerns, not just relevant to
driverless cars
.
Munich Re
motor expert Jochen Friedrichs has suggested motor insurance policies may need clarification.
"Currently, a third-party victim would fully be covered under the conditions of a malfunctioning car, even if caused by digital manipulation.
"But does motor insurance need clarification in this regard and should policy wordings be adapted to new scenarios of vehicular cyber crime?
"Are motor insurers willing, or perhaps even morally obliged, to offer third party protection under all imaginable circumstances, by all means? Are additional obligations needed?"
He suggested as an example a clause requiring policyholders and vehicle owners to update the entertainment, safety and convenience package firmware provided by the car manufacturer.
"Have we reached the point in time for motor insurers, or maybe the reinsurance sector, to address the issue of implementing cyber insurance clauses into motor insurance?"