Business cards: how does yours stack up? | Insurance Business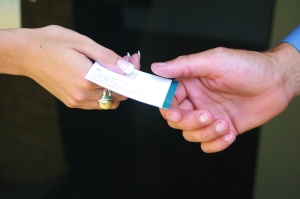 A business card can say a lot about a person, and the difference between a good and a bad one can make or break your memorability. We asked experts for top industry tips.
Gideon Keith, the creative director of Principals Branding (NZ) says he always references the business card scene from the movie
American Psycho
when talking to clients about how to best market themselves.
"While it's over the top, it illustrates some of the key things to think about," he says.
"Paper stock choice and weight, typeface and colour/s and embellishments (foiling, embossing and die cutting). Your card should say a lot about you; it should be a reflection of your professional self -or at least the persona that you want to project."
But business cards can also have cultural repercussions to consider, Keith says.
He once worked on an NZTE programme where the previous design of cards had die cut round corners.
"It looked great but was unusable in Japan and Korea (both were key markets) because the corners were synonymous with masseuses (the kind that provide happy endings)."
Should you go for a new and modern design or old fashioned?
Keith says this depends completely on what impression you want to leave people with.
"I personally love a beautiful, minimalist card which has been letter pressed in a single colour. It says style and confidence. Business cards that have every possible form of contact (fax number, anyone?) feel a bit needy."
He says another consideration is if you are often in meetings with colleagues where you all then present the same business cards.
Sometimes a bit of personalisation allows everyone to represent the organisation but also show a little individuality too.
Is that a 3 or an 8? Talking font sizes and types
Keith says type size is one of the most important aspects of a good business card.
"Having now reached the age where the length of my arms now define type legibility, I am very careful about type size. Designers tend to put the aesthetic before readability.
"I advise clients to make the personal contact details larger than company details – if there is a hierarchy – as I want to be able to glance at the card and see the mobile or DDI easily at that's what I primarily use the card for. We've all called the fax number before because it's listed right below the phone."
Should you have a photo of yourself?
Unless you're selling real estate, a photo on the card is a definite no-no according to Keith, especially for professional services.
Job hunting? Here are some tips:
Sean Walters, the co-founder of alterative recruitment firm virtualRPO, says offering and rejecting people for hundreds of roles over the years means he's seen the good, the bad and the ugly when it comes to business cards.
"In an industry known for networking, collecting business cards has become something of a hobby so I've seen all sorts," he says.
"The biggest fails I've seen would be cheap, badly made cards – particularly for businesses in their launch phase when their trying to keep costs low – and an increasing trend of people having social media icons on their card, without any other details. Yes, it's saying you use Twitter and LinkedIn but the icons aren't much good unless I can click on them."
Build your personal brand within your organisation
Walters says that at the better end of the card scale, striking the right balance between the business brand and your personal brand can work really effectively.
He says he recently received a card with the business owner's morning drink order (long black) and their evening tipple (Sauvignon Blanc) on the back of it.
"It's a nice, personal touch and it extends an opportunity to the person who's been given the card to make the next move - professionally speaking, of course."
Another way to link personal and business, Walters says, is to connect what your organisation does with a personal note - for example your favourite product or how you use it.
"It says this is who I work for, but it's also something I'm interested in myself and that leaves a positive impression, in my experience."
The ritual of swapping cards - and the follow up
Walters says if you are job hunting, the ritual of exchanging cards is still important.
"Once you've exchanged cards with someone, it opens up the door to a coffee. It's hard to say 'no' to meeting up with someone with whom you've already exchanged business cards.
"However, I would caution giving your current business card to a recruiter because if that's the only way they can contact you, don't be surprised if you get a call to your office or work mobile – so if you're going to hand out your current card while you're seeking a new role, make sure only you have access to your existing numbers and email."