Caution remains around remaining EQC transfer figures | Insurance Business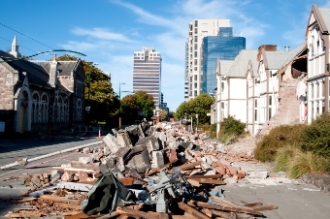 Insurers are still being cautious about confirming definite numbers of over cap claims they're expecting to be transferred over to them from the Earthquake Commission, despite the work EQC has undertaken to give them more certainty.
"EQC has introduced a faster handover process for the remaining dwelling claims that are likely over cap where appropriate, with the support of insurers including
Southern Response
,
IAG
,
Vero
, Tower Insurance and MAS," an EQC spokesperson told
Insurance Business
.
The spokesperson could not divulge the information that related to individual insurers, and when
Insurance Business
made enquiries to insurers the response in terms of clarity was mixed.
Vero said it expected around 20 further claims to come through which was a result of working with EQC 'for some time' to get a clear understanding of which claims had the potential to go over cap.
"Based on the information we have received from EQC, and our review of each of their unresolved cases that they have advised us, we estimate that only around 20 further claims are likely to be transferred to us," a Vero spokesperson said.
"All claims we consider are likely to go over cap have been opened as live claims and we are now taking them through our assessment process."
He added: "We do however stress that this is our review of information supplied to us from EQC."
IAG, on the other hand, would not reveal any figures.
"For the 'finalised number' from EQC, unfortunately we are not in a position to comment," IAG media and community relations manager
Shelley Huang
said.
"We continue to focus on ensuring the claims that are passed through at this stage are handled in a way that supports our customers, some of whom are very frustrated at the time that's been taken to assess their property damage as over cap," she said.
Insurance Council CEO Tim Grafton said insurers were continuing to work with EQC which they hoped would speed up the process for Canterbury customers.
However, he was wary of focusing on final numbers at this stage: "When that process is complete those numbers will still only be estimates."
Insurance academic Dr Michael Naylor, who is a senior lecturer in finance and insurance at Massey University's School of Economics and Finance, raised the issue of the recent settlement between EQC and the EQC Action Group and what effect that would have on the finalised numbers issued to insurers.
Legal experts speaking after the 'milestone settlement' was made
had predicted a flood of people wanting their repairs reviewed by EQC.
But the EQC spokesperson said they did not expect any effect on the number of claims that go over cap.
"While the Joint Statement will not affect over cap numbers, the final number of over caps can only be known once the final earthquake claims are settled," the spokesperson said.
"EQC is currently working with insurers in regard to 300 claims from the Canterbury Home Repair Programme (CHRP).
"There will also be a smaller number of claims yet to be settled outside of the CHRP that also go over cap, such as claims involving multi-unit buildings or in cases where EQC has revisited a claim.
"Overall we are confident the number of over cap properties will be only slightly higher than the 25,000 we forecast in 2013," the spokesperson said.
Last week
Tower CEO Richard Harding revealed the number of outstanding Canterbury claims
they were expecting to come from EQC was under 50.
Southern Response had not responded at the time of publication.