Claims firm Stream NZ rebrands to shake off Aussie connection | Insurance Business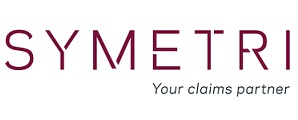 Claims management company Stream New Zealand is unveiling its new look and new name today in a bid to shake off association with its Australian sister company.
The new company name will be
Symetri
and will have new branding associated with it (see pic).
The
Aussie operations went into voluntary administration just before Christmas last year
, and have been managing the remaining runout of claims with a reduced number of stuff with closure expected next month.
General manager of Symetri, Katherine Woollard told
Insurance Business
there was never a direct impact from Australia, but there was some concern around the reputational effects.
"We've undertaken a piece of work to segregate ourselves from the Australian operations and the main driver for that is to say we're not part of Stream anymore, we're our own independent NZ-centric business and we're really looking to identify ourselves as our own business.
"We segregated any shared services we had and we've taken all of our infrastructure and are now hosting it locally in New Zealand with New Zealand suppliers.
"We've also put together a new Board which will be steering the company from now on."
She said: "We are a profitable business with strong revenue and strong client loyalty and we're moving forward with the company that we believe in and we believe in the products that we offer."
Woollard said she had been heartened by the extent of their clients' loyalty, with not a single one walking away through the process.
"It shows that we do have strong partnerships with them and they're all about the service we deliver and they know our service is best in class, so I'm really rapt that they've stuck with us and are supporting us through what is just a bit of a speed bump.
"Other than having to change some IT services and do some rebranding our team is still well engaged, we haven't lost any staff, so it's just been business as usual since the announcement really."
Woollard said the idea for choosing the name Symetri was because it held several meanings.
"It's a word that represents working together, valuing our clients, our people and our customers and keeping them at the heart of everything we do.
"Part of our value proposition is delivering a truly customer-centric model, and we really believe in that and believe that's what makes us different from our competitors.
"It's all about taking the stress and the pain away from the customers at claim time and giving the insurance companies a product that's not just of high quality but is cost-effective and very factual."
She said the company's Christchurch work including project management with the earthquake recovery and the results they'd had there were particularly pleasing.
"Our catastrophic response product that we offer sees the assessing and the repair time being a lot faster than our competitors so we're about 98% complete for Tower whereas some of the insurance companies partnering with other suppliers are sitting at the 70% and 80% mark."
Another change was a new appointment for the Christchurch general manager position.
Colleen Kaptein has completed her stint in New Zealand and returned to Australia with former Crawford & Company GM strategy & operations, Grant Simpson, being appointed in the role.
Woollard said Simpson would also be working on other strategic initiatives.
She was also excited about the new Board line-up, which included major shareholder Lindsay Phillips as a director. There was still one vacancy on the Board to fill, she said.
The move represented an exciting new outlook for the company, she said.
"I think it's a great opportunity for the New Zealand business to re-focus and start to deliver what we've always said we'll deliver, and that's a unique proposition for our clients.
"Even though we have been doing that for the last five years or so there's been a lot of noise from Australia so it just cuts away the noise and allows us to focus on servicing the clients and providing that service for the industry."
The rebrand was revealed internally to staff yesterday and key clients were being informed this morning along with the wider market today.