Cows in lake furore highlights NZ underwriters' 'venerable crusade' | Insurance Business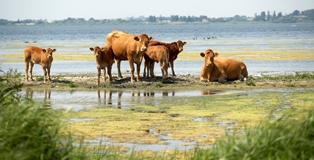 Delta
Insurance general manager Craig Kirk was in the spotlight this week being interviewed on the national tv news about Delta's latest white paper, and it was all because of some Canterbury cows cooling off in a lake.
The cattle, which are from a farm belonging to Chief Justice Sian Elias and her husband Hugh Fletcher, were filmed wading in a popular tourist spot, Lake Taylor in Canterbury, much to the disgust of locals who say it is a regular occurrence and a pollution threat.
While Environment Canterbury has only issued one fine out of 165 complaints made about stock in waterways since June 2014, the organisation says new stricter rules introduced last year mean they are now 'ramping up their response'.
And Craig Kirk said that will follow a wider national trend which has seen the number of prosecutions taken under the Resource Management Act increase by 150% in the last two decades.
The statistic is just one of many facts and figures collated in Delta's latest white paper, '
Cleaning Up Our Act: Embracing Environmental Risk Management
', which highlights some of the many risks – and major financial consequences - businesses and company directors with various different pollution exposures face.
Kirk said: "Fines are one thing but the clean up costs, which aren't potentially covered by insurance, can be substantially more.
"A small accidental situation can cause quite a lot of environmental damage. There was a case where a guy turned a tap on accidentally and it caused a diesel spill which cost well over $1 million to clean up and took months of regeneration activity."
Kirk said they had spent a good six months working on the white paper to tie in with their new
Environmental & Pollution Liability product launched in October last year
, which would make a useful tool, not just for company directors and business owners, but brokers too.
"The white paper can make them better equipped to understand the issues and better equipped to advise clients around the exposures and also around the insurance solutions.
"I think brokers aren't that familiar with what insurance solutions are available in this space, and there's an expectation that existing insurance will cover this, but traditional insurance will potentially only cover a portion of it so there are gaps that haven't been addressed at the moment."
Delta managing director Ian Pollard said while the white paper had meant a big investment of time and money it was something they believed was worthwhile.
"We think there's a social perspective to help the industry deal with these issues, which aren't just affecting our generation but generations to come.
"We think these are venerable crusades that we should go after."
Pollard said judging from the interest from the market since their product was launched three months ago, it was proving to be a viable business opportunity too.
"The response has been so good that we're looking at getting a specialised environmental expert in to run with it."
He said once awareness for the insurance solutions grew he envisaged it being driven by contractual requests.
"Different parties to a contract will look to protect themselves by ensuring there's this type of insurance in place."