Damien Coates taking mental health advocacy to new heights | Insurance Business New Zealand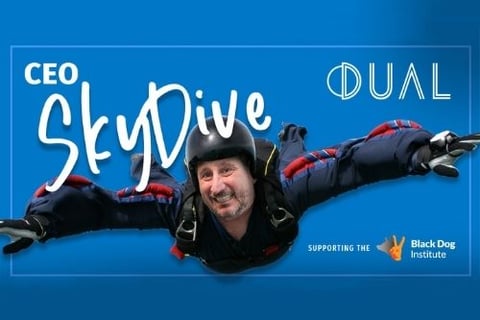 DUAL Asia-Pacific chief executive Damien Coates (pictured) is doing all he can in his capacity as a mental health advocate, including agreeing to take part in this month's CEO Skydive for the benefit of mental health research not-for-profit Black Dog Institute despite his absolute fear of heights.
Coates, who in 2019 had his head shaved also in support of the Black Dog Institute, has had his own share of mental health struggles and is keen to help however he can. As of this writing, he had already surpassed his AU$10,000 fundraising target for CEO Skydive and is currently the top fundraiser with AU$11,808 raised so far.
Speaking with Insurance Business ahead of the April 30 event, the DUAL boss shared: "My first experience with anxiety was in 1999. My parents separated when I was 13 and as the eldest child I always felt a heavy responsibility as the glue between the family. So, when I decided to move to England to advance my career and to see the world, I was overcome with anxiety as to who would look out for them."
Coates cited sweats and panic attacks, and said he was hyperventilating and couldn't breathe. He got help, however, and was able to move.
"The next time it hit was in 2011," recalled the CEO. "Someone very close to me was suicidal, so we took them into our home. I remember it was the worst Christmas of my life, wondering if I had done enough to support them, and managing my own anxiety while trying to protect them.
"By 2012 I was travelling 40 weeks of the year for work. I was constantly jet-lagged and exhausted. I was having panic attacks; I was down and I felt hopeless. Having the courage to seek help, everyday life became manageable again. Communication is the key thing for me – speaking with a psychologist, friends, and family, because I believe nothing good comes from keeping it inside."
Watch: CEO raises $70,000 with charity head shave
For Coates, the research undertaken by the Black Dog Institute is "extraordinarily critical," with the organisation being the only medical research institute in Australia to investigate mental health across the lifespan. The goal, he noted, is to create a mentally healthier world for everyone.
"One in five people will experience symptoms of mental illness in any given year, which equates to around five million people in Australia," highlighted Coates. "BDI's focus has expanded to address new challenges and opportunities in mental health – suicide prevention, digital innovation, lived experience, youth, and workplace mental health."
Meanwhile, in preparation for the jump, the insurance chief is getting professional coaching from Helen Christensen, the Black Dog Institute chief scientist and UNSW mental health professor who took up skydiving when she was younger.
As for his firm's backing, Coates had this to say: "DUAL, along with our parent company, is thoroughly committed to me advocating for a mentally healthier world by supporting my ambassador role with The Black Dog Institute. Ten per cent (10%) of my working time is dedicated to the ambassador role, which is primarily done through the various presentations I give to industry and broking groups.
"I am passionate about tackling mental health issues, and I hope by sharing my personal story I can assist in the necessary investment in research programmes BDI run as well as encourage the insurance industry to collaborate more about mental health."
You can support Coates' CEO Skydive here.