Displaced insurance workers still committed to quake effort | Insurance Business New Zealand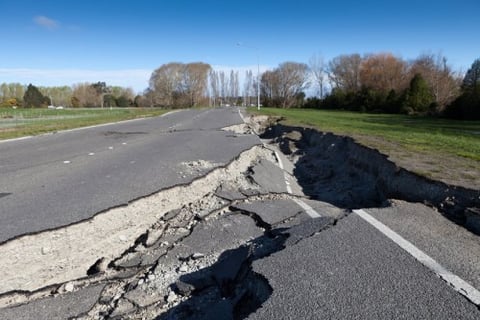 Insurance workers unable to access their place of work were going all out to help clients regardless, by working from home following Monday's 7.5 magnitude earthquake.
Today, several big firms with Wellington offices were looking at their third day of not being able to go in to work, as quake issues were exacerbated by severe weather and flooding.
Major brokers Willis Towers Watson,
Crombie Lockwood
and
Rothbury
were all denied access to their buildings until given the sign-off by engineers.
As of last night, Willis Towers Watson spokesperson
Tina Vogdanos
said their building had survived the earthquake with minimal damage so was cleared by the engineer.
However, the combination of the current pattern of bad weather affecting access roads into the capital city, plus a lack of air conditioning and lifts not working, meant the office would be closed for a further day.
"All colleagues will be working from home with our phone system diverted and are available to assist all our clients with any claims that may arise from the earthquake," she said.
Rothbury's managing director
Roger Abel
said once it was established that all the team were safe and unharmed it quickly became a case of business as usual.
"Because of the mobility of our broking system, our Wellington teams are able to provide a business as usual service from their homes in the interim," he said.
"Interestingly, we are receiving more calls than usual from clients across New Zealand, mainly concerned their payment has been received and checking their sums insured," he added.
Smaller brokers, such as Nelson's Kenn Butler, of Paradise Brokers, which is part of the Vision Insurance group, said even though his team could work, normal business was on hold anyway.
"Insurance companies have got embargoes on so we can't even put a renewal through today," said Butler.
"Insurers aren't going to accept a risk willy nilly without asking the question 'is there any damage to the existing cover' so it's a matter of sitting back down and waiting."
Butler said the earthquake had been 'a wee bit scary'.
"My wife was particularly frightened and after 34 years [of marriage] I've never seen her that worried before," he noted.
Butler said there were advantages to being a small business, one being that one of his staff members had had to bring her two children to work with her since the schools were closed.
"And what else could she do? I have no problem with that, as I need her to work," he said.
David Rush, who heads up Vision Insurance, said things had started off pretty quiet despite staff being geared up and ready for an influx of calls and claims queries.
"I think a lot of clients' communications are down," he said, adding that they were waiting to see what would happen.
Insurer
IAG
said it too was expecting a 'big lift' in calls over the next couple of days.
"We actually expect [them to come from] the worst hit area as lines of communication get fully functioning and the people there are able to move from dealing with immediate safety issues and concerns," a spokesperson said.
"In terms of geographic spread of claims enquiries it seems the energy of the earthquake really did get sent north with reports from our assessors of damage to some pools in the Hawke's Bay region from water movement."
Loss adjusting giant
Cunningham Lindsey
said it was responding with appropriate resource to the specific initial adjusting needs, which were mainly commercial, including business interruption.
CEO
Darryl Cowan
said: "We are lining up people from around the country to assist, and have spoken to our colleagues in Australia.
"The first priority has to be to ensure the safety and well-being of those who have been displaced, and then Cunningham Lindsey will join the efforts to assist in the reconstruction of the damaged communities."
Leon Briggs
, who is the newly appointed president of the Australasian Institute of Chartered Loss Adjusters, offered sympathies to those affected by the quake, which he said came on the back of Christchurch, Gisborne and Eketahuna.
"Loss adjusters are very experienced in earthquake claims in New Zealand, unfortunately, and are well used to managing sudden events that cause influxes of work so all of the firms will be marshalling resources, talking with their partners, and planning their responses," he noted.
Briggs was anticipating considerable complications to the adjustment process due to the damage to and lack of travel routes available.
"It will therefore take some time to understand the full extent of the damage, potential costs, and the number of adjusters likely to be deployed – both locally and brought in from overseas," he said.
Insurance lawyers had also felt the effects.
Duncan Cotterill employees had been able to return to their office after just one day with colleagues based in Auckland, Christchurch and Nelson assisting with client enquiries in the meantime.
Meanwhile,
DLA Piper
NZ staff from Wellington were able to work from home.
Partner Martin Wiseman said: "Our first priority was to communicate with all staff to ensure their well-being and to ensure we discharged our health and safety obligations."
He added: "Although the Wellington office has a 100% seismic rating, the building requires an engineer's assessment before it can be re-occupied."
He was also quick to underline the processes they had in place to maintain security and efficiency.
"Our IT department has processes in place which guarantee all files have been safely backed up.
"If required, these backups can be accessed and restored by authorised IT staff to hardware in either Auckland or Wellington," he said.
Related stories:
Industry gears into action following fatal quake
Insurers reveal latest Canterbury claims stats