Driverless cars misunderstood by public, brokers: expert | Insurance Business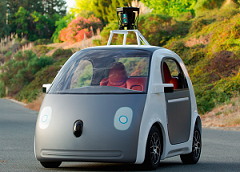 Brokers have nothing to fear when it comes to driverless cars, according to one industry insider.
Although many automakers believe that autonomous vehicles are in demand from consumers, a new survey from uSwitch reveals that 48% of UK respondents refuse to be a passenger in one, primarily because of safety concerns.
Moreover, 16% of respondents described themselves as "horrified" by these automobiles.
Many brokers share this sentiment, in addition to questioning their role in the driverless car market. This unease, however, may be rooted more in speculation than fact, as brokers will always need to address auto risks, no matter their source.
"Liability usually lies between two drivers and their respective insurance companies," said Rod Jones, commercial manager, insurance, uSwitch.com. "But when driverless cars are in the equation, there is still liability between the two insurance companies involved in the claim, it might be between two manufacturers, the owner of the two driverless cars, or the maker of the technology used in the driverless car."
Jones believes that brokers will adapt to driverless cars, just as they did to evolve with every other technological advancement in automobiles.
"The way I look at it, the car you drove 10 years ago didn't have cruise control, reverse parking sensors or the facility to automatically brake," he said. "There always going to be a need for insurance, you just need to understand where the liability is, whether that's the manufacturer, driver or somebody else."
Jones is so confident that brokers and other insurance professionals will eventually see the value that autonomous vehicles can bring to their businesses, they may end up helping to sell the idea to consumers.
"Insurance should be keen to be part of the change and help to shape it and drive it forward," he said. "That can then be communicated to consumers so they get the buy-in."
In the end, Jones believes that the most rewarding part of being a broker will still exist in an era of autonomous vehicles.
"Driverless cars won't change the core principals and services that brokers offer, which is finding the best insurance for consumers," he said. "In the event of a claim, that consumer will be protected, which means that brokers' role remains invaluable throughout the whole process."