Far Out Friday: Brit comic gets insurance in on his NZ act | Insurance Business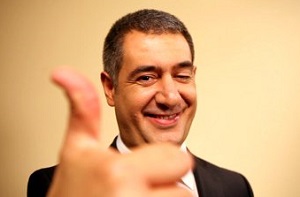 British comedian Tim FitzHigham discovered two things about insurance when he decided to row 200km down the River Thames in a paper boat.
The first thing he discovered was that it is very hard to get insurance cover for a paper boat you plan to row 200km down the River Thames – even if it is for Comic Relief.
The second thing he discovered was that it is actually possible to get cover.
FitzHigham is bringing his show 'The Gambler' to New Zealand as part of the International Comedy Festival 2014 in which he talks about the numerous harebrained bets from the past that he has recreated in the name of upholding the tradition of good old British eccentricity – and for a good laugh of course.
He said: "It was the world's oldest surviving maritime record set in 1619. I found the story of the original in the footnote of a very dusty history book in a very dusty corner of a library and I discovered the original guy had done it as a bet.
"That made me think there must be a whole load of these bets. In the gentlemen's clubs in the UK they have these club betting or wagers books, some of them are 200 years old, and they are absolutely phenomenal.
"It's led me all over the place to do all sorts of weird and interesting stuff."
During his planning to pull off the paper boat stunt he found he had to have it covered by insurance.
"Being England of course I had to get insurance for my paper boat before they let me take it out on the River Thames," he told Radio New Zealand.
"I phoned hundreds and hundreds and hundreds of insurance companies and nobody would give me insurance for my paper boat and then one of them finally phoned me back and they said, 'Tim, you and the paper boat are totally covered against fire and theft!'"
FitzHigham ended up raising over $20,000 from the stunt, with donations even coming from New Zealand.
Since then he has also rowed the English Channel in a bathtub, which earned him a broken shoulder, and blown up the world's largest balloon, which caused him to pass out twice.
He has even had a toilet named after him by Thomas Crapper & Co, who invented the loo.
Kiwis can hear more of his tales of lunacy at the International Comedy Festival from 29 April – 3 May in Wellington and 5 - 17 May in Auckland.