Flooding and liquefaction EQC claims held by insurers - claimant | Insurance Business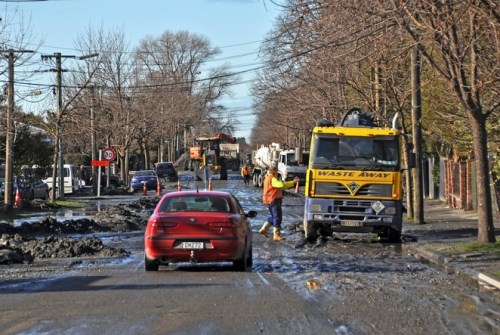 A claimant who's concerned uninformed landowners could be missing out on their Earthquake Commission (EQC) claims has warned that these settlements could be in the hands of insurance companies.
Roger O' Callaghan, who received his $28,620 payout after several calls and letters to EQC and Tower Insurance, said Tower should never have had the money in the first place,
Fairfax Media
reported.
After reaching an initial settlement with Tower, O'Callaghan asked EQC whether he was entitled to a payment for loss of value to his land for increased vulnerability to flooding and liquefaction; and was informed that he was because his land devalued when the 2011 earthquakes made it more vulnerable to flooding, the report said.
Because insurance companies do not insure land, they have no claim on payments for diminished value due to flooding,
Fairfax
said. These payments are often handed directly to landowners by EQC, although there are cases when the payment goes through the insurer.
Tim Grafton, Insurance Council CEO, said: "In the case of a flooding risk, because that has got nothing to do with damage to the property itself... then that's a payment that ought to go to the landowner."
In O'Callaghan's case, EQC handed the money to Tower on October 25. The claimant said he wouldn't have known about or received the payment on November 10 had he not asked.
In response, a Tower spokesman said they kept a record of all payments, and that regardless of whether O'Callaghan got in contact or not, they would have paid him the settlement.
"As is common practice across the industry, to get our customer's buildings repaired and rebuilt more quickly, we may improve the ground under our customer's house so that we are able to proceed with remediation quickly.
"This means we don't need to wait for EQC's land assessment and payment to the customer who would be required to rectify the land before we can reinstate the building."
Tower held an internal investigation at O'Callaghan's request and was satisfied that its staff had acted in good faith. O'Callaghan, on the other hand, was not, arguing: "The internal inquiry was only related to my case."
Callaghan also claimed that Tower had his money for more than a week before they could confirm to him they had it, and he was concerned because a Tower member of staff told him that EQC should not have told him the payment had been made, the report said.
The Tower spokesman said it might have been because it caused confusion when information was given to the customer from different agencies,
Fairfax
said.
Trish Keith, EQC customer and claims GM, said EQC sent letters to homeowners informing them about the flooding and liquefaction EQC claims forwarded to their insurer.
EQC did not say how many flooding and liquefaction settlements it made to insurers and property owners by deadline.
Related stories:
Tower to fork out over $1.6m to rebuild quake-damaged home
Insurer Tower sticks to its guns in pursuit of Peak Re