Former British Airways boss to depart Aviva's board | Insurance Business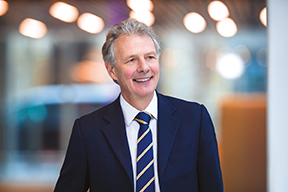 Keith Williams (pictured), the man at the helm of British Airways prior to his appointment to the board of Aviva Plc in 2016, is leaving the UK insurer two months from now.
Immediately after Aviva's annual general meeting on May 23, the independent non-executive director will step down from the board. Currently he is a member of the governance, nomination, and risk committees, as well as chair of the audit committee.
Williams, who is also deputy chairman at Royal Mail Plc, is set to succeed chair Les Owen when the latter exits the letters and parcels delivery company on May 22. The incoming chairman came onboard on January 01, 2018.
"I would like to thank Keith for his significant contribution to the board and its committees, in particular in his role as chair of the audit committee," stated Aviva chairman Sir Adrian Montague.
"Keith's financial experience and detailed knowledge of business planning has greatly benefited the company, and on behalf of the board I wish him well for the future."
Aviva senior independent director Glyn Barker will re-assume the position of audit committee chair for the time being.
Meanwhile, commenting on his appointment at Royal Mail, Williams said he is delighted to accept the role and is looking forward to working with group chief executive Rico Back and the senior management team.
"Our external search has confirmed that Keith Williams is the right person to chair the Royal Mail Group through a significant period of change," noted senior independent director Orna Ni-Chionna. "The company will benefit from his strong leadership skills, and his industrial relations, operational, and strategic expertise."