Industry advocate clocks up service award | Insurance Business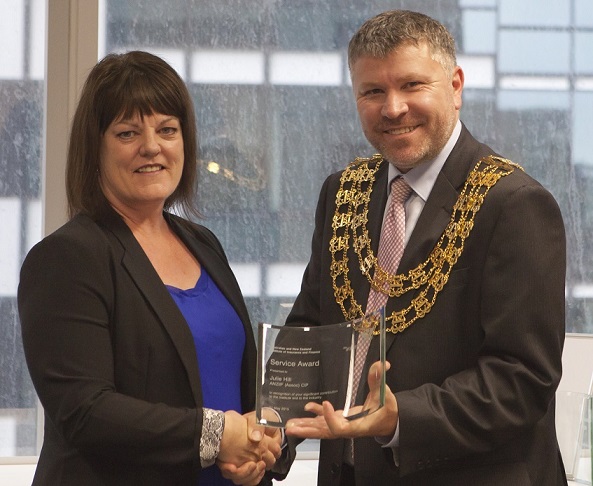 Being good at talking, having neat writing and wanting to help people were the criteria that landed Julie Hill her first job at State Insurance as a 17-year-old endorsement clerk.
While the neat writing requirement has dropped well down the priority list, Hill has used her communication skills to great effect, helping both clients and colleagues.
"I love what I do, it ticks all the boxes," Hill told
Insurance Business
. "The sales buzz was always the biggie for me. I just knew I loved being able to add value and develop relationships based on trust and knowledge as well as letting my positivity and personality be a big part of it."
"When I began managing people I found I enjoyed inspiring others to find their own success and do a good job."
The job that was only supposed to be for one year before university turned into 18 years working in various roles at State before she took the leap over to broking.
She then explored insurance recruitment for eight years, during which time she won an
IBANZ
award for services to the industry, before coming back to broking where she is now Group Broking Manager at
Crombie Lockwood
.
Her work for
ANZIIF
began 20 years ago organising netball tournaments but then led to heading up the professional development committee.
"That was about promoting learning which is something I feel passionate about," Hill said. "I thought that was more what I should be giving to the industry and dedicating time to."
She also helped set up Women in Insurance to improve networking for women in the industry, most recently hosting a table at ANZIIF's gender roadshow in April.
Now, in recognition of her efforts, the Australian and New Zealand Institute of Insurance and Finance (ANZIIF) has just awarded Hill with an Institute Service Award at last week's AGM in Melbourne, endorsed by the board of directors.
"It is a pretty big deal, and I am proud to receive the award. As I said at the AGM, I don't know where 20 years has gone. I've had an amazing time, and I've met some wonderful people – I am truly richer for the experienced.
Prue Willsford
(ANZIIF CEO) said that she has appreciated the friendship and fun I have also brought to the role, which reflects how being 'real' is always my approach.
Hill also credits the raising of her two sons as complementing her skill set in the insurance world.
"We saw family as a team and looked to have as much fun as we could. I always value my boys' opinions and thoughts on things – it is sometimes quite amazing what they come up with.
"I have encouraged them to challenge the normal way of thinking and not put limitations on anything. To have fun, but also to care about what's really important and I think that transcends easily into the work environment."
At the end of 2014 Hill decided to resign from the ANZIIF board. After 20 years the timing seemed right and Hill said she wanted to devote more energy into her role at Crombie Lockwood where she looks after four brokers plus runs her own book.
"I was asked to be New Zealand's representative on the broking faculty and I looked at what that involved and I decided I've got a few things I want to do with my team here first," she said.
"I love being part of the insurance environment – I feel inspired by what I do on a regular basis, so am not driven by a desire to be CEO one day.
"It's not about me – it's about whether or not I can add value, to my team, to Crombie Lockwood, to the industry, which I guess is why I've done so much over the years with ANZIIF."
She is however keeping her options open and hasn't ruled out a return to the ANZIIF ranks following her long-held personal goal of travelling to Europe later this year for a six-week holiday. "It's not never, it's just not now," she laughed.