Insurance the key to bring Wicked Campers into line? | Insurance Business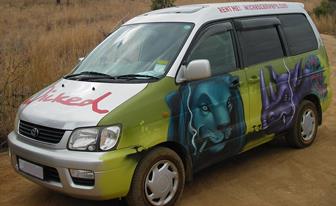 Tourists driving Wicked Campers' vans could find their insurance might be void, National MP Shane Reti has said.
The Advertising Standards Authority has called the company's van art 'deliberately provocative and offensive' with some of their slogans advocating rape, drug use, murder and racial hatred.
Reti had been trying to contact the Australian company, by various means, to follow up complaints from constituents in his Whangarei electorate but got no response from them.
He discovered that one of the conditions on the collision damage waiver was that drivers had to obey local laws.
"When you go and pick up a rental van, often you're asked if you'd like to take up the extra insurance, what they call collision damage waiver, and sometimes that fee can be as much as the daily hire," he told the Paul Henry program.
"What a lot of people do is they use their credit card… and the credit card company will pick up that collision damage waiver.
"Turns out, when you speak with the major banks who are issuers of the cards, part of that regulation is that you must be obeying local regulations, local road rules.
"If you breach that, you actually void your insurance," he said.
"Now, we know in Whangarei [Wicked Campers drivers] are breaching bylaws; we know in Queenstown and other councils as well… The implications there are: if you used your credit card right now, here today, you may have lost your insurance."
Reti also urged Kiwis to give tourists a heads-up and warn them.
"If members of the public see people in these vans and they're concerned, they should mention to them, 'Look – you may well have breached your insurance, you may not know that.'"
The MP had also informed big corporations such as Pepsi, Disney and Coca-Cola that the company had used their trademarks in some of their slogans, which he hoped would bring major 'legal weight' to the fight to get Wicked Campers to take heed of the complaints.
Reti said Upper Harbour MP Paula Bennett and the chief censor were working on a solution and would have something ready in about three weeks.