Insuring coastal homes amid climate change | Insurance Business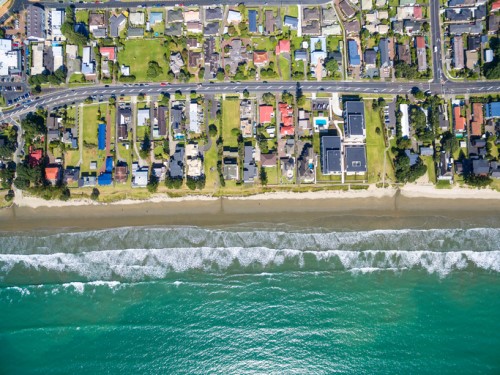 A recent report has claimed that the insurance options offered to homeowners will impact the extent of risk climate change poses to New Zealand's coastal areas.
The Insurance, Housing and Climate Adaptation report looked into the challenges faced by homeowners, insurers, and the government as climate change threatens NZ coastal housing, particularly through sea level rise; and identified critical areas on the issue that require further research. The study was commissioned by the Deep South National Science Challenge, and was a collaboration between Motu Economic and Public Policy Research, Victoria University of Wellington.
According to the report, there are over 43,000 houses within 1.5 metres of the present average spring high tide, and almost 9,000 within 50 centimetres across the country, in regions with high-quality data.
The most optimistic emissions scenario has global average sea levels likely to rise between 44cm and 55cm by 2100.
Professor Ilan Noy, one of the report's authors and chairman of the Economics of Disasters at Victoria University of Wellington, said the report highlights the need "for a lot more research on this issue of sea-level rise and insurance of residential properties."
Want the latest insurance industry news first? Sign up for our completely free newsletter service now.
He said thousands of NZ properties, the number and location of which are unknown, will become uninsurable at some unknown point in the future, and that this could happen gradually or quickly in response to a Kiwi or overseas event.
Dr Jim Salinger of the University of Otago said the topic is important to New Zealand, as 12 out of its 15 largest towns are at or near sea level, and "thus at high risk from sea level rise."
"Major decisions are required in coming years on whether central and/or local government protect, adapt or retreat from areas prone to sea level rise and flooding," he said. "The costs of protection are phenomenal. A national strategy is required because of the land and housing at risk from storms and flooding."
Dr Judy Lawrence, co-chair of the Government's Climate Change Adaptation Technical Advisory Working Group, said the report put a "spotlight on the role that insurance and the finance sectors might play in the ongoing response to climate change impacts."
"They can either transfer risk to the Crown or private property owners, or work in tandem to reduce the exposure to risk and deal with the legacy effects of past decisions at the coast and on floodplains," she said.
Among the six high-priority research questions identified in the report include how sea level rise risks currently fall across different parties, what policy options are available for when the tipping point of uninsurability is reached, and what those tipping points would be.
Related stories:
Insurance vital in battle against climate change
ICNZ chief on adapting to climate change
LGNZ and ICNZ on the threat to coastal properties
Government told to prepare for compensation for uninsurable homes