Kiwis putting their best foot forward for charity | Insurance Business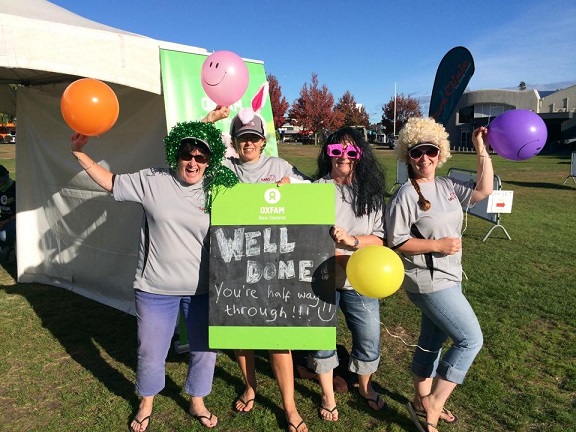 What started as a fleeting idea over drinks two years ago has resulted in a team of MAS staff members raising more than $4,000 for charity – and overcoming the odds to complete the gruelling Oxfam Trailwalker in Taupo last weekend.
The team of MAS (Medical Assurance Society) staff included Bryce Pratt, Leigh Hill, Bryce Pullan and Adrian Rumney, while Annie McKissack, Jane Hickman, Melanie Robertson and Heather Johnson-Lee comprised the support crew. Jane Bamberry and Anna O'Hara Smith contributed to logistics and fundraising activities.
Teams of four walk 100km in this annual fundraiser, an event that has been running in New Zealand since 2006, with more than 1,000 participants each year.
The fundraising efforts, including movie nights, quiz nights, and a raffle, were bolstered by a staff barbeque at MAS on Friday 28 March that saw walking team member Adrian Rumney's head shaved for donations amounting to $492.
The team members trained individually for 12 months, and had two big training weekends that involved walking between 65 and 70km together before embarking on the road to Taupo last Friday.
On the day the distance and terrain were very challenging at times, but the team was well supported at the end of each leg and ultimately secured a successful finish.
"We made a fantastic time – 20 hours 48 minutes – better than we had hoped, and were all amazed at the sheer size of the event.  All up a fantastic weekend.  The support we received from our team, MAS and our many donors was truly amazing and we thank you all," said Bryce Pullan.  
MAS chief executive Martin Stokes said he was very proud of the team's accomplishment.
"It is a tremendous achievement to face such a challenge and surpass their target finish time and their fundraising goal so significantly.
"I congratulate the team and their support crew as well as everyone at MAS that got behind their efforts with donations," he said.
Oxfam Trailwalker New Zealand is part of an international series of 17
events
held in 11 countries. Over the years, the event has raised more than $150 million internationally for Oxfam.
Set up by the legendary elite Queen's Gurkha Signals Regiment in 1981 as a military exercise to test teamwork, endurance and determination, Oxfam Trailwalker is the ultimate physical and mental challenge.
So far, $778,152 has been raised by walkers participating in the weekend's trailwalk.
Oxfam aims to raise their target of 1 million by 18 June. You can donate to Team MAS at
http://www.oxfamtrailwalker.org.nz/otw14/teams/team-mas
See more pictures from the event
here
.