McLarens hires new senior TPA specialists | Insurance Business New Zealand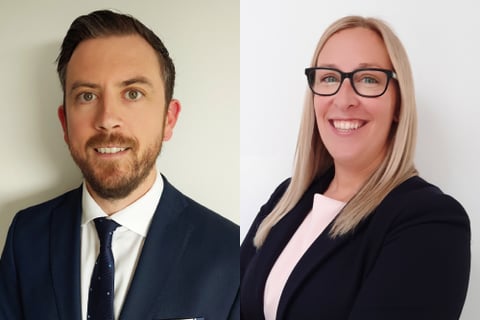 Global insurance claim services provider McLarens has appointed a six-strong team of senior third-party administration (TPA) specialists to boost its TPA offering.
The six new TPA specialists hold an average of 20 years of experience. They have worked with brokers, insurers, MGAs, captives, and corporates worldwide – including FTSE 100 and Fortune 500 clients to deliver large-scale, outsourced claims management programmes.
Jason O'Sullivan (pictured left), appointed as the head of global TPA development at McLarens, will lead sales across McLarens TPA. He has spent 15 years specialising in the sector, having held senior business development roles at the likes of Gallagher Bassett and Crawford, most recently as the director of sales at Broadspire.
Matt Morling, appointed as the head of TPA client services, has 30 years of industry experience and has specialised in the TPA sector since 1994. Throughout his career, he has worked across the insurance, reinsurance, and corporate markets and held senior client services roles within a specialist motor TPA. Most recently, he was the director of client services at Broadspire.
Paul Sturges ACII FCILA has joined McLarens as the head of global TPA accounts. He has nearly 40 years of industry experience, having commenced his career in commercial loss adjusting. He is also an expert in developing claims management solutions for international and corporate clients. Most recently, he was the director of global accounts at Broadspire.
Johanna Mulley, appointed as the head of TPA analytics and solutions, also joins McLarens from Broadspire. She began her career with McLarens in 1994 and is an expert in managing international programmes focusing on overseeing programme administration, quality control, data analytics, system management, and the provision of management information and business intelligence.
Karla Ward and Cassie Watts join McLarens as global TPA programme manager and TPA programme manager, respectively. They have over 15 years of industry experience and specialise in the implementation and management of multinational claims programmes.
The latest appointment spree follows the recent appointment of Kirsten Early (pictured right), who joined McLarens in May as the global head of TPA to spearhead the strategic expansion of the company's TPA offering.
Based in London and reporting to Early, the six-strong team will support the continued development of McLarens' TPA capabilities at an international level.
Early commented: "These hires are about building strength at a senior level. In an insurance world increasingly dominated by globalisation and consolidation, international claims handling is a sophisticated business demanding the expertise and experience of highly skilled and innovative practitioners.
"We're focused on delivering quality outcomes for our clients, and we will do this by hand-picking the best experts in the industry. I'm delighted to welcome this team of trusted market leaders to McLarens."