MMC leader on why there is no better time to be in the risk business | Insurance Business New Zealand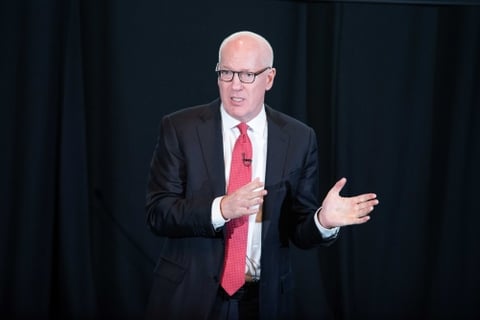 In the view of Marsh & McLennan Companies (MMC) president and chief executive Dan Glaser (pictured), no industry benefits society more than insurance does. Addressing more than 700 delegates at the ongoing MMC Rising Professionals' Forum 2019 in London, Glaser explained why.
"If insurance did not exist, few people would even leave their houses," asserted the industry hotshot, whose enterprise recently acquired Jardine Lloyd Thompson Group. "There would be no investment, no movement, no advancement without insurance."
MMC – the name behind Marsh, Guy Carpenter, Mercer, and Oliver Wyman – has sponsored the forum since 2013. With this year's theme centred on "adaption or extinction," the event brings together the industry's next generation of leaders who get to hear from the likes of Lloyd's of London chief executive John Neal and former MI6 head Sir Richard Dearlove.
"There is no better time to be in the risk business than right now," Glaser told the rising professionals from over 60 organisations across the international (re)insurance market.
"The risks in front of us are profound," noted the CEO, who described the world as moving at such a pace that it is in a constant state of volatility, uncertainty, complexity, and ambiguity. "Climate change, unfunded social liabilities, religious fragmentation, water scarcity, cyber securities, AI (artificial intelligence), robotics – these are the risks of our age."
Glaser also pointed to what he thinks is the wider remit of the insurance industry.
He stated: "Yes, insurance is about protection and offering freedom from the emotional and financial burden of loss. But it is also about enablement and creation.
"That is the purpose of our industry. We each have a great opportunity within our own careers to promote that industry purpose even more."