Movers & Shakers: New motor manager for Zurich New Zealand | Insurance Business New Zealand
New motor manager for Zurich New Zealand
Oliver Jepson has been appointed New Zealand motor underwriting manager for Zurich New Zealand, the company has announced.
Jepson will lead Zurich's commercial motor and motor fleet business in this country following two months as interim motor underwriting manager during which he implemented key changes for improvement.
Zurich NZ general manager
Kai Dwyer
said the portfolio was one of the strongest in the New Zealand market and was confident it would only get stronger under Jepson's leadership.
Nick Dendrinos, head of motor, Zurich Australia and New Zealand, said: "It is particularly pleasing to be able to fill this senior role through internal succession, reinforcing once again the strength and capabilities that exist in our teams.
"We aim to be the best commercial motor insurer in New Zealand and we are confident that Mr Jepson will play a pivotal role in achieving that."
Jepson, who previously worked for Inbroke Ltd running a specialist motor underwriting agency before joining Zurich in 2012, said he was delighted to step into to lead the team and outlined his plans for the role.
"I will focus on delivering sustainable high performance and improving the market-leading services of our customers and brokers have grown accustomed to."
Jepson joins the New Zealand senior management team and reports to Kai Dwyer.
Broker boatie floats over to insurer manager role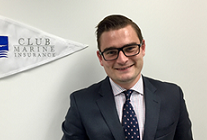 Club Marine has appointed passionate boatie and former broker Nicholas Meister to the role of manager New Zealand.
The CEO of the recreational boat insurer, Simon McLean, said Meister's 'impressive skillset', honed during his time at PIC Insurance Brokers, would be a real asset to the company.
"Nick is a passionate boatie and brings with him an impressive skillset that includes experience in the New Zealand broker and dealer markets, where he has been actively involved in sales, claims and administration," he said.
"Nick has built strong relationships within the industry that will help Club Marine further position ourselves as a leading recreational boat insurer in New Zealand."
At PIC, Meister managed a portfolio of domestic and commercial hull insurance where he developed a close relationship with Club Marine and other marine insurance underwriters.
"Having previously held positions in underwriting, claims and business development enables me to work with the team to implement strategies that will maximise productivity and performance of Club Marine in New Zealand," said Meister, who has already commenced rolling out a number of initiatives since starting in the role last month.
"I want Club Marine to be viewed as the go-to insurer for recreational boat insurance in New Zealand.
"So far this year, we've renewed our commitment to the Hutchwilco New Zealand Boat Show and our long-term agreement with the Royal New Zealand Yacht Squadron.
"Over the coming months, I am looking forward to further engaging with our partners and the industry in general."
As an avid sailor who has been a member at the RNZYS for 22 years, Meister also has plenty of personal experience of relevance to the role.
"I'm looking forward to being more involved in the fantastic on-water lifestyle we enjoy in New Zealand – and to meeting our loyal Club Marine members wherever and however they enjoy getting out on the water."