​News in Brief: Bad prognosis behind earlier retirement for AIG boss | Insurance Business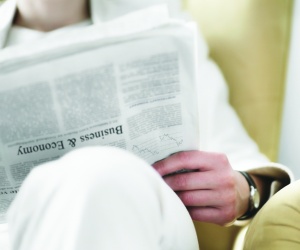 Bad prognosis behind earlier retirement for AIG boss
AIG CEO Robert Benmosche admits he brought forward his retirement after being told he had nine months to a year to live back in May.
Benmosche, who stepped down this weekend, was originally slated to leave in early 2015 after being diagnosed with cancer in 2010. But after outliving earlier prognoses and repaying the insurer's US$182.3 billion bailout, he said he wanted to enjoy the time he had left.
"I said, 'You know what, I'm not going to play the odds,'" he said in an interview with
Bloomberg Television
at his Croatian villa. "So let's accelerate my retirement. And the board was happy to do that."
Benmosche, 70, is passing on the CEO post to Peter Hancock, who leads the property-casualty unit.
He said advice from his mother had also prompted his decision.
"My mother told me, 'Don't wait too long,' and I'm glad I didn't wait too long.'"
Institute unveils website
The Australian and New Zealand Institute of Insurance and Finance has unveiled its new website which is designed to support the education, training, professional development and engagement of Institute members across the Asia-Pacific region.
The new features of the site include:
a personalised members' centre that helps users stay up to date with developments and news
premium written, audio and video content from leaders in insurance, finance, business, management and more
access to videos of presentations, conferences and other events hosted by the Institute
access to current and back issues of Journal
interactive professional development activities to enable members to test their skills and knowledge
forums and direct links to social media so members can engage with thousands of insurance professionals in the Institute's network across the globe.
Prue Willsford
, CEO of the Australian and New Zealand Institute of Insurance and Finance, said of the site: "This website has been designed with one thing in mind: to support our members, students and the insurance industry across the Asia-Pacific region to fulfil their potential.
"This means providing the best learning, professional development and engagement opportunities to those using our site and establishing an online hub for the insurance community to gather."
Insurer's CFO gets shares in the company
QBE
has announced that recently appointed CFO Pat Regan has acquired 118,960 shares in the company.
The acquisition followed the release of the interim results and details of the package of capital and other initiatives the company is undertaking.
AIG tackles safety in rugby
AIG has pledged US$50,000 to help improve rugby safety by launching a new global awards programme aimed at players from primary schools to premiership level.
As the official insurance partner to NZ rugby, AIG is urging teams from each global region (Europe, North America, Australasia, South America, Asia and Africa) to submit videos and photos showcasing how they are improving, or would use prize money to improve, safety at their rugby club, such as first aid training.
The closing date is 31 October 2014 and entry is via www.aig.com/SafeRugby or #AIGSafeRugby.
AIG New Zealand's Acting General Manager, Debbie Wilson said: "By collaborating our expertise in safety with New Zealand's profile in rugby, we are able to use the power of two global organizations to make a difference.
"The link between insurance and safety is evident and we feel AIG can provide a platform to encourage safe participation for everyone involved in the sport."
Supermarket insurance essay lands a win for reinsurer
The impact of supermarkets in personal insurance was the winning subject of the Peter Corrigan International Scholarship for 2014, announced by the Australian and New Zealand Institute of Insurance and Finance and Finity Consulting.
Noelene Palmer of Swiss Reinsurance Company Ltd was awarded the scholarship for her essay "How does the entry of Coles and Woolworths into personal insurance impact the market? Are there any implications for commercial insurance?"
Finity Consulting principal and managing director, Estelle Pearson, said Palmer's research validated the qualities that the scholarship celebrates – deep industry insights and leadership.
ANZIIF
CEO Prue Willsford, said the level of thinking Palmer demonstrated in her essay would allow the industry to go from strength to strength.
She said: "Noelene's essay showed insight and engagement with macro and micro issues in personal insurance and intelligent consideration of where the industry is heading."
Palmer, who is looking forward to undertaking some international study with the A$10,000 award, said she felt honoured to win the scholarship in Corrigan's name.
"I am excited by the opportunity this provides to undertake some international study, which I hope will enhance my contribution as a leader in the insurance industry."
Scholarship applicants were required to submit a 2,500 word essay on one of five topics. The bi-annual scholarship offers winners $10,000 to attend an international insurance seminar or conference.