Outstanding achievements recognised at 5th annual industry awards | Insurance Business New Zealand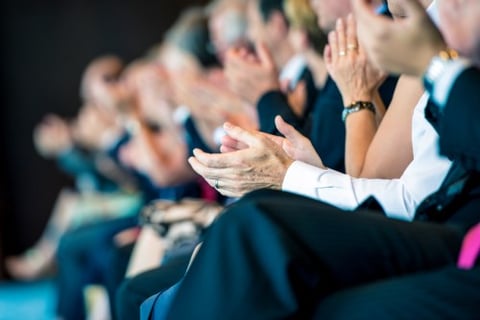 It had already been a week of historic wins, what with first Ireland beating the All Blacks and then Donald Trump becoming president of the United States.
And while both of these momentous events were heavily referenced by both MC Hilary Barry and the Irish contingent present at last night's glamorous Sky City event, the night was all about celebrating outstanding achievement in the insurance industry.
ANZIIF
CEO
Prue Willsford
celebrated the fact that this year's submissions were of both a high number and quality with the winners representing the best the industry has to offer.
"Their evolution and contribution does great service to the New Zealand insurance industry and its customers," she said.
First time winner Frank Risk Management won the Small-Medium Broking Company of the year award with director Rene Swindley saying the win made a fitting celebration for their eight year anniversary this month, and marked a far cry from their early days working from the garage of his parents' house.
The judges praised the outstanding results emanating from their 'unique business model' and acknowledged the company's 'complete transparency with clients of all sizes', and the 'innovative manner in which it demonstrates value to those clients.'
Taking out the Large Broking Company of the year award for the third year in a row, was
Rothbury
, whose managing director
Roger Abel
, after greeting his neighbour Hilary Barry on stage, took the chance to send a message to competitors who were missing from the occasion.
"Within our business we're always keen to compete.
"I'd like to acknowledge Willis. It is great to have another large broker that put themselves forward. There are perhaps a couple of others that could do it but choose not to.
"So we look and say 'have we done a good enough job this year?' and I've got to say, in the last 12 months, more new clients have joined Rothbury than any prior year."
A recurring theme during the evening was the many references to Net Promoter Scores (NPS).
Rothbury, second consecutive winner of the Intermediated Insurance Company of the year,
Vero
and first time winners of the Direct General Insurance Company of the year
FMG
all credited the NPS system for improving their chances.
FMG CEO
Chris Black
acknowledged how difficult it had been to knock
AA Insurance
off their winning streak in the category and said he respected both finalists, AA Insurance and
AMI
Insurance.
"We use NPS too so that would have to be one of the takeouts from tonight – anyone on a table that's not using NPS, you want to check it out, because everybody else is!" he said.
Black said it had been a tough time for the farming community over the past couple of years and praised his team who had 'worked really hard' to support the farmers, not just in general insurance but on the personal risk side too.
The mutual had also embarked upon FarmStrong, an intiative with the Mental Health Foundation.
"It's really to help people become more resilient to handle the ups and downs of farming and similarly we have ups and downs in our industry and we're all working through that.
"I'd just encourage and recognise and celebrate all the good work we all do whether it's life, health, general, irrespective of where you are in the value chain, we all play a really important role.
"Insurance is the glue that keeps the business, the economy and society together and I think we should all be very proud of the role we play collectively in that."
Despite AA Insurance not securing a fifth consecutive win in the Direct category, they managed to scoop two other awards, the Women's Employer of the year and the inaugural Youth Development Employer of the year awards.
CEO
Chris Curtin
realised the amusement value in 'someone of his vintage' accepting a youth insurer of the year award but pointed out that AAI was actually a very youthful company.
"Over 70% of our workforce is under 35 years including the majority of our middle management team and I'm rather proud to say that just over 60% of our current executive and operational management staff were under 35 when they progressed to manager level.
"So this tells me that we're not only committed to growing our own talent but we place significant value on having a youthful workforce," he said.
"They bring fresh ideas and openness to change and we wouldn't be the company we are today without them."
When Curtin was called up a second time to collect the Women's Employer award he said he was 'absolutely gobsmacked'.
He said they entered the category this year for the first time, but based on the belief that 'we don't have the need for specific gender equality policies'.
"This is because our people strategy focuses on the equality of all employees including women.
"We don't actively focus on gender, instead we find the right person for every role, and only recruit on the basis of skills, experience, knowledge and competency.
"So this means the ratio of women to men is favourable at all levels of our business including a 50/50 split in the executive team."
The Innovation of the year category proved particularly tough to judge, according to the panel, who singled out
NZI's Safe Driving Rewards Program
for the honour.
The judges praised it as a 'world first for insurance' and lauded the positive results it was already having despite still in the early implementation phase.
NZI
's general manager commercial underwriting, Stephen Everett, thanked his team saying: "When you disrupt yourselves to do something better for your customers it's amazing what the results are."
There were three individual award categories handed out on the night.
Runacres & Associates managing director David Crick took out Broking Professional of the year who shared the insight that he got his first broking job at the broker's office down the road from his home in the UK after someone got sacked and meeting the requested standard of football-playing ability!
On his decision to move to New Zealand in 2010 Crick said he only had two questions – are there any earthquakes and is there any snow.
"I was told no to both of those," he said.
"Six days after landing in 2010 we had the first quake.
"So during that time I had to lead the team through a very difficult period, the business was in a good state, we managed to move on, we looked after our clients and to me, I took over an exceptional team which has now grown over the last five years too."
Representing the new, up and coming talent was Eugene Sabitov from Willis Towers Watson who secured the Young Insurance Professional of the year award.
He thanked his manager for his 'great delegation skills' and the
WTW
team for hiring him and his wife and family, colleagues and the market for 'trusting me and believing in me and helping me with my career.'
Finally, the ANZIIF Lifetime Achievement award for an incredible almost 50 years in the insurance industry went to
Jim Harris, managing director of NZbrokers
, who received a standing ovation.
The judging panel picked him out for his 'tremendous contributions' to the industry.
"Jim's unparalleled vision and unwavering enthusiasm for insurance has seen him inspire peers and emerging talent at conferences, as a mentor, or by simply sharing his thoughts about the industry he so clearly loves," the judges said.
"Without question, Jim has had a profoundly positive impact on our industry, and is truly deserving of this accolade."
Harris gave a very heartfelt speech where he thanked close friend and business partner of 16 years,
David Archer
, and Wayne Quinlan, 'my close friend and right hand man for nearly 30 years', a tribute that prompted applause.
He said: "I can't thank you enough Wayne for your assistance, guidance, support and the massive contribution you've made to the success of all these operations but above all for always being a great mate – thank you for that."
Harris also credited his current team, Jo Mason,
Mark Searles
and Keith McIvor and finally his wife Judy and their three children Tina, Shane and Jason for their 'love, assistance, support and the many sacrifices you've had to make over many, many years which has enabled me to do and achieve what I have in my career.
"I've had a fantastic time in this industry of ours and thank you all once again for this incredible award and recognition."
For the full list of winners go
here
.
Related stories:
Insurer NZI's pioneering telematics partnership
Five Minutes With… Jim Harris, NZbrokers
NZ insurance industry awards finalists revealed
The thrills and spills of awards night