QBE New Zealand CEO on what will solve insurance companies' woes | Insurance Business New Zealand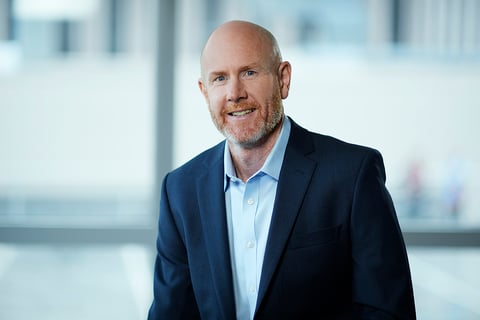 QBE's New Zealand & Pacific chief executive and managing director Declan Moore (pictured), whose industry experience spans not only the Kiwi market but internationally as well, believes there's essentially one solution to the universal problems faced by insurance companies.
The now Auckland-based CEO, who has spent years in Sydney and Dublin, told Insurance Business: "I've done quite a lot of work in South America, across Europe, and in North America. It's a global industry, so the fundamental problems and opportunities are the same everywhere. And the solution to those is the same everywhere, which is good people.
"While there are country-specific idiosyncrasies, whether it be the perils they're exposed to or the particular legislative environment, it is good people who help you solve those challenges."
Part of the solution, according to Moore, is being where the customers or the problems are.
"I'm a big fan of making sure that the people who are solving your problems are close to your customers and they're local," he said. "I don't think complex problems can be solved from a long way away. I think principles can be adopted at a high level, but fixing problems needs to be done close to the source… that's the one thing I've learned [from my industry experience] and hopefully I implement."
Read more: New Zealand Red Cross on QBE's "absolutely vital" support
QBE New Zealand, for instance, is "always looking to get good people," shared the chief executive. That means the insurer is consistently hiring.
Moore noted: "We'd have 20 vacant positions at any point in time… We've done a lot of workforce planning. We have more underwriters and claims staff than we had when I commenced, certainly. But we also have a much bigger mix towards software engineers / developers and testers. We've heavily invested in our pricing capability and our programme delivery capability because we are moving towards being more effective, more efficient.
"We've grown substantially in the last three years. We've seen solid growth in top line and equally good growth in the number of people that we're hiring. We've got about 270 people in New Zealand, across Auckland and five branches, and then we've got about 130 people across the six countries of the Pacific."
In the QBE leader's view, these insurance workers are facing much the same difficulties as their peers are.
"Our challenges won't be any different from those of every other insurer in the New Zealand market, and many of them will be the same challenges faced by others globally," said Moore when he sat down with Insurance Business. "We are unusual in that we're entirely intermediated in our New Zealand business, which means our direct contact with customers is at the most important time, which is claim time. For most other interactions, we rely on our broker partners to give advice to our customers.
"Our challenge is to deliver a reliable, fair product in an efficient manner. That's what we're trying to do – easy to say, not easy to do but a challenge we believe we are well positioned to meet."
Read more: Group boss says QBE "a much more joined-up organisation now"
The CEO explained: "The biggest component of our cost is our claims cost, and hopefully that's the case for every general insurer. We're seeing significant inflation in construction costs, and that's both parts and labour. And the same is true in motor. New Zealand is at the end of the world – it's not a manufacturing economy, so we are importing inflation."
Then there's the fact that New Zealand is "very earthquake-exposed," with flood also among the biggest perils. One advantage for the Kiwi operations, though, is the global nature of QBE as an organisation.
"We're relatively comfortable with where we're at, but we're a small, very catastrophe-exposed country," highlighted Moore. "We benefit from being part of a larger group where, ideally, not everything goes wrong across the world at the same time. And if something happens here, we do have the benefit of that group capital. Then in the years when the earth doesn't shake, we build that capital."
Amid the challenges, Moore pointed to the importance of having a well-run business that is founded on good underlying infrastructure.
"We really focus on the process," he said. "We really focus on our people. And through having an efficient process and the right people, we think our customers will get good outcomes and the results will be satisfactory."