Special Feature: Burnout, breakdown and the 'black dog' | Insurance Business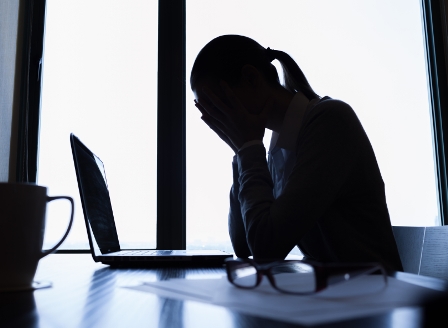 IAG
shining star Jacqui McIntosh is speaking out about her mental health struggle in a bid to help others who may be fighting the same battle – of which she believes there are many.
The Christchurch-based former manager – sales and service of Direct Insurance (State,
AMI
& NAC) is currently on a career break after reaching a point where her depression resurfaced and made her unable to work.
"This isn't about wanting sympathy," McIntosh stressed. "If speaking out helps one person feel less alone, it will be worth it."
"I have had a history of depression on and off since I was 15 and for me it's always situational," she told
Insurance Business
.
The last five years in particular have been pretty intense for McIntosh, having been heavily involved in the underwriting response to the Canterbury earthquakes, then taking a lead role implementing the move back to home sum insured and finally late last year she was part of the project team that worked on the closure of the State stores around New Zealand.
"This was an intense time, with periods of being crazy busy and plenty of time away from my family," she said.
However, it was taking on a new role that set her on the downwards spiral.
"I was very flattered when everybody else thought I'd be great at it so I went for it. But it didn't necessarily tick all the boxes from a strengths perspective or a values perspective.
"And when that happens you can't underestimate the impact it has on your wellbeing over time."
McIntosh said she found the role meant most of her time was spent reading papers, looking at numbers and going to meetings.
"I wasn't getting to do all the people leadership and the learning and the orderly planning piece which really helps me to achieve, and that's really how I started on that downhill slope."
McIntosh said in the past she had got through her depression by taking medication and talking to a professional to get herself back on track.
"I would usually feel really, really sad and would cry all the time. This time I was just really exhausted and indifferent.
"I couldn't get out of bed, I felt sick every time I thought about leaving the house and I'd never had the anxiety side of it before.
"It wasn't that my work ethic went downhill or that I wasn't producing results, I was a high performing depressant.
"But that was where all of my energy was going – I was thinking about work, talking about it, worrying about how I was going to get it done and it was taking five times as long to get through things than it would do normally because I couldn't get my brain to focus."
McIntosh initially took some time off sick, which wasn't enough, and at first she thought she should resign. But that's when the idea for a career break – or as she humorously terms it, becoming founder and CEO at ME – came about.
"I realised the one thing I hadn't done which I'd had the opportunity to do every other time was just take a break and completely simplify my life again."
Her employer, IAG, was fantastic, she said.
"To their absolute credit, once they understood the situation, within the hour they said yes. They told me they would handle everything from then on, they were absolutely brilliant.
"I'd been a high performer for the organisation for nearly 15 years and I'd only had a couple of days' sick leave in the last five years so I think they looked at it holistically."
McIntosh spent the first few weeks just doing as little as possible to give herself time to 'clear all the stuff racing through her mind'.
She discovered a World Health Organisation video called
I had a black dog, his name was depression
(see video below) which she said summed up exactly how she felt.
Then slowly as she emerged from the fog she began to get involved in other activities, which she said were just as important to include in her life now as work.
This has included voluntary work at a local dog rehoming organisation, helping on her daughter's school pool rebuild project, writing a blog and spending time meditating, hill climbing and enjoying family life.
"When I go back to work I will start changing the times around so I can fit them all in my day so I don't let it all slip away.
"Living a rounded you is just as important, but it's so easy to let things slide. You might be so exhausted by the end of the day to go for a walk but you will feel so much better if you do it."
McIntosh said she hoped to return to work either in a project capacity or at the middle management tier, in a role where she can play to her strengths.
Because of the feedback she has had from readers of her blog who have thanked her for being so open, she said she knows she's not the only one battling the 'black dog'.
"It's the next epidemic in the world I would say. The WHO literature says by 2020 it's going to be the biggest cause of early death and disease of people in the world.
"Couple that with their other statistic that by 2030 non-communicable diseases such as depression will cost the global economy $47 trillion in lost output, every business needs to take notice."
This is why McIntosh wants to put her experience to good use to help others.
"I want to set up a depression help group at work where people can come and talk about it.
"I also want to speak to our leaders about my experience so that people understand that because we run a people business we need to be able to recognise the signs and be compassionate enough to help our people.
"When someone shares with you they have depression it is because they trust you. It's hard to talk about and we need to be able to say if you're feeling like this it's okay."
The key thing with mental health, she said: "Only you can make the choice to get better. People need to think of it like having a broken arm and needing a cast on it – you wouldn't not get a cast on it.
"The biggest advice I would give to others is that acceptance is the biggest step, then get help, and simplify your life."
In response to Jacqui's situation IAG had the following comment to make:
IAG's executive general manager of Strategy, People and Reputation, Martin Hunter, said IAG is pleased to have been able to support Jacqui, and humbled by her appreciation of that support.
"It's what we seek to do, and what we hope to do. She's always been a wonderful contributor and the brave approach that has been so valued in the roles she has held with us is also evident in how she has faced the challenge of depression in the different forms that it can take.
"In terms of IAG's approach, we seek to actively educate our people about health and wellness and encourage people to speak out if they have concerns or issues.
"To help we have a wellness programme that outlines benefits and services including support available that we actively encourage our people to utilise. Why? Because we have a mantra – like a certain beauty product brand: 'because you're worth it'."
Read Jacqui's blog here: http://gettingbacktoyou.com/
See the WHO video here: