Tower chief executive breaks down 2022 financial results | Insurance Business New Zealand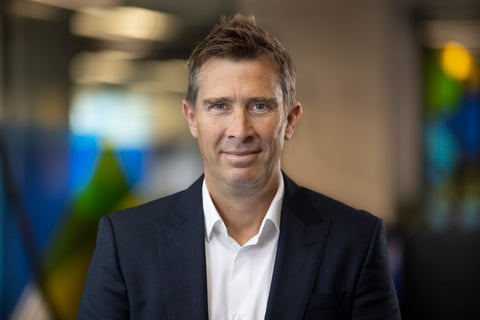 "We are continuing to grow; to drive down expenses; and to innovate our customer experience."
Those were the words of Tower Limited chief executive Blair Turnbull (pictured) when the Kiwi insurer reported its financial results for the year ended September 30 (FY22). According to the CEO, the FY22 numbers see Tower in a "very positive" position.
"Tower's focus on simple and rewarding customer experiences combined with our digital and data capability have contributed to strong growth in both premium and customers," noted Turnbull at Wednesday's earnings call. "During the financial year we grew our gross written premiums 13% year on year, up to $457 million. We also grew customer numbers to 319,000, up 5% on the last financial year.
"Our digitisation strategy is driving deeper customer engagement and growth, with the number of Tower Direct quotes online increasing to 292,000, leading to 66% of sales now taking place on digital channels. These new customers are being brought on board at a lower cost to acquire, at 12% of net earned premium, versus 12.6% in FY21."
The CEO, meanwhile, highlighted that Tower isn't just attracting new customers. According to the Tower boss, half of the company's New Zealand customers have two or more products with the insurer. Additionally, Tower cited growth and improvements across all its business units – Tower Direct, Partnerships, and Pacific.
In terms of claims, Turnbull pointed to an improved claims ratio amid inflation and weather events.
The chief executive declared: "Inflation impacts all facets of our lives, including how far our insurance cover will stretch at claims time. Due to the sharp increase in inflation over the previous 12 months, in FY22 it became more expensive to repair and rebuild homes, and repair or replace cars and contents.
"But Tower's advantage is our ability to identify and quickly address emerging trends, thanks to our investments in digital and data technology and the decisive actions we've taken over the past 18 months to deliver improvements. Our increasing scale is also continuing to deliver efficiencies, with Tower's BAU (business as usual) claims ratio being brought back to a very strong level of 48.9%, compared to 50.2% in the 2021 financial year."
Turnbull continued: "This is despite the stormy weather across New Zealand this year resulting in total claims costs of $18 million, compared to the five-year average of $11 million, and New Zealand claims volumes overall increasing to almost 73,000 individual claims over the year."
Read more: Tower CEO gives the lowdown on what's behind upcoming financials
Aside from its claims ratio, the firm's management expense ratio (MER) also improved.
"By global standards," asserted Turnbull, "a 1% reduction in management expense ratio is a good result in any year for an insurer. So, in this highly inflationary environment, we are particularly pleased to have achieved yet another improvement in MER to 36% this year.
"With half of all tasks and transactions in New Zealand now completed digitally versus 46% in FY21, the customer and efficiency benefits from our leading digital and data technology platform are being realised."
The CEO added: "Two key drivers of our reducing expenses are the commissions saved through the transformation of our Partnerships business to a lower commission model and the legacy book acquisition programme. We are on track with decommissioning legacy systems and now have just two remaining, down from four in FY21."
Tower's profit after taxation for the year amounted to $18.9 million – a slight decrease from FY21's $19.3 million. Total net profit attributed to shareholders, meanwhile, grew 1% to $18.8 million.
Turnbull, whose camp announced a final dividend of four cents per share (bringing total dividends for FY22 to 6.5 cents), went on to state: "Tower is a well-capitalised business with a strong balance sheet and solvency margins, and we are delighted to have returned $55.3 million to shareholders in the form of dividends and a capital return.
"In the coming year, our focus is on continuing our solid underlying operating performance and achieving positive customer outcomes and growth. We continue to focus on claims inflation and enhancing claims processes while driving efficiencies through our scalable digital platform and focus on expenses."
Tower, he said, also remains committed to delivering positive returns to shareholders through continued dividends and accelerating growth.