Two Kiwi insurers to take EQC to High Court | Insurance Business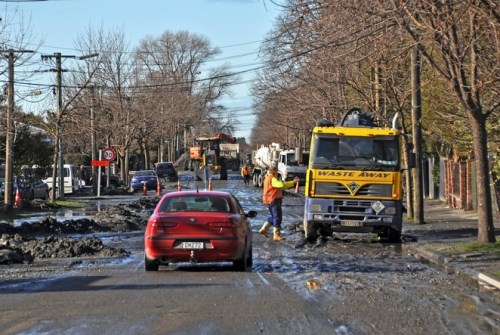 With concerns that the Earthquake Commission (EQC) may be short-changing Christchurch homeowners of their land damage payments, two Kiwi insurers are taking the industry body to the High Court.
Tower Insurance
and
IAG
are taking the Earthquake Commission (EQC) to task over the calculations it uses in determining increased liquefaction vulnerability (ILV) payments,
Fairfax Media
reported.
ILV covers for the reduced value of land due to increased vulnerability to flooding and liquefaction caused by earthquakes.
Private insurance companies can't settle ILV land damage claims as they do not insure land, but in some cases they manage the EQC payout on behalf of landowners.
When a home requires land remediation or fortified foundations because of liquefaction risk, insurance companies sometimes issue the needed funds rather than wait for the homeowners to get their EQC payout. These companies will then get to recover the expenses for land remediation and pay the balance to the homeowners when EQC pays out, the report said.
Craig Dowling
, IAG head of corporate affairs, said IAG and Tower sought clarification over EQC's liability, and were worried the payouts might not cover costs.
Want the latest insurance industry news first? Sign up for our completely free newsletter service now.
He said insurance companies found that EQC had used a different calculation for some ILV payments it made and published.
"EQC has determined it can use a depreciated market value model to calculate the cost of the land damage and that tends to be considerably less than the cost of enhanced foundations, or indeed an assessment of the actual cost to satisfactorily repair the land so it is able to be built on," Dowling told
Fairfax
.
He said a legal ruling would reduce the confusion over the issue and would be beneficial for customers if the court action was successful.
"They may ultimately receive higher payouts for land around their homes," he explained.
Richard Harding
, Tower chief executive, said the legal move was the only way for private insurers and the EQC to clarify the issue.
"Despite repeated discussions with EQC, we have failed to agree how to treat these costs," he told
Fairfax.
Harding said the court action would not impact customer settlements, saying: "We are simply seeking to have EQC fairly reimburse Tower for costs incurred responding to ILV in settlements already reached."
Bryan Dunne, EQC interim chief, said the commission was still considering the implications of the litigation, but assured Canterbury customers who had already received an ILV payout that their settlement would stand.
Related story:
Flooding and liquefaction EQC claims held by insurers - claimant