UAC partners with insurance analytics forum | Insurance Business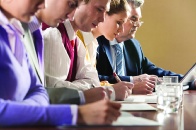 The Underwriting Agencies Council (UAC) has partnered up with global business leadership institution Clariden Global for the Insurance Analytics, Predictive Insights and Big Data Forum. The forum will be held on 28-30 September 2016 at the Intercontinental Sydney.
The partnership allows UAC members to receive a 10 per cent discount off the conference fees by simply registering using the promotion code L6254UAC10.
The two-part conference sets the stage for insurers and top leaders to discuss strategies to harness the power of big data and predictive insights for improving organisations' value chains, increasing bottom lines, and achieving a competitive edge in the marketplace, explained Clariden Global.
The forum aims to come up with intelligent solutions for improving underwriting, pricing, claims, customer experience, and fraud preventions using the latest technological advances, such as the Internet of Things (IoT), and Wearables and Telematics.
A post conference workshop will be held on the third day.
The conference will be attended by prominent insurers and international experts from a variety of industries including insurance, banking, finance, telecommunications, and computer software.
For more information and to register, visit the
Clariden Global website
.
Related stories:
Insurer Vero ends UAC partnership
Industry body UAC inks UK deal