Weekly Wrap: Russell McVeagh gets Rainbow Tick certified | Insurance Business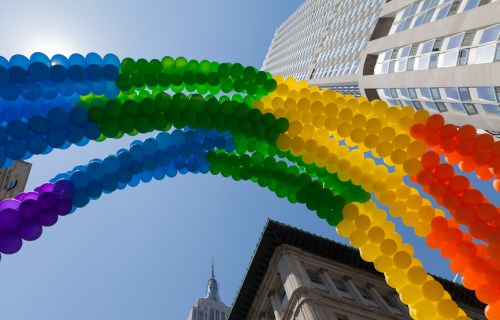 Kiwi law firm gets Rainbow Tick certified
Commercial law firm Russell McVeagh has been awarded the Rainbow Tick certification after completing a six-month audit process.
The Rainbow tick certification demonstrates that an organisation provides its employees with a safe and welcoming workplace that understands, values, and welcomes sexual and gender diversity.
Gary McDiarmid, Russell McVeagh CEO, said: "It sends a great message to our staff and our clients that we embrace diversity at Russell McVeagh. We place great importance on diversity and inclusiveness in our workplace although by going through this process, it has become clear that we still have a way to go on our journey."
"We are committed to building upon this achievement and continuing to work on making our environment a welcoming place for all of our employees to feel comfortable enough bringing their authentic selves to work."
Michael Steven, Rainbow Tick program director, commended Russell McVeagh for showing real engagement to the certification process, which involved getting assessed against current international best practice in the world. Steven also noted the firm's sincerity in its approach to the issue of ethnic and gender equity.
Lesley Elvidge, Russell McVeagh's HR director, said creating a workplace where people are free to bring their whole selves is a key factor to attracting and retaining the best talent at the firm.
"While the areas of gender balance and ethnicity have been the focus of our Diversity Project to date, it was important to us to extend ours to include LGBTTI diversity. We have learnt so much through the process of becoming certified and are grateful for the support and guidance of The Rainbow Tick organisation. We're looking forward to continuing to develop our relationship with the LGBTTI community."
Minister reacts to FMA insurance report
Commerce and Consumer Affairs Minister Paul Goldsmith has welcomed the release of the Financial Markets Authority's (FMA) report into the sales practices within the life insurance industry.
The FMA examined in its report the conflict of interest issues in the industry; and warned against the high risk of consumer harm and potential churn of the relatively high levels of switching of existing insurance policies.
According to the report, which included data from April 2011 to March 2015, the majority of financial advisers do not have high levels of replacement business; but noted a clear link between high rates of replacement business in certain areas and high up-front commissions.
Said Goldsmith: "Insurance replacement is an area where there has been considerable scrutiny, particularly to determine if 'churn' in the life insurance market may be harming consumers."
"The report is a thorough analysis of current practices in this part of the New Zealand financial market. It is encouraging to see that the majority of insurance advisers do not have high levels of replacement business and appear to be putting the consumer's interests first."
Goldsmith noted, however, that the report has identified only a small proportion of advisers. He also commended the regulator for further analysing whether those advisers with the highest levels of replacement business had been acting in the best interest of the consumers.
"It's important for the industry to work collectively to address the issues the report raises and make their practices more transparent to their customers," said Goldsmith.
The FMA announced that it will be looking next into the conduct of those advisers with the highest volumes of replacement business – the basis and drivers of the switch, with particular reference to incentives provided by insurance providers.
Global insurer rebrands NZ business
ACE Insurance Limited in New Zealand is changing its name to
Chubb
Insurance New Zealand Limited effective 1 July 2016.
Andrew Brooks
, Chubb New Zealand country president, said: "We are excited to officially become Chubb. We will be offering all the same products and services under our new Chubb brand while also planning to bring new Chubb products to market in the coming months."
The name change follows
ACE Limited's acquisition of The Chubb Corporation
on 14 January 2016, which created a global insurance company operating under the Chubb brand. Globally, this partnership fused Chubb's 130 years of underwriting experience and customer service with ACE's three decades of technical underwriting ability, broad risk appetite, and global presence.
Industry group turns three
Young Insurance Professionals (
YIPs
) is marking its third birthday with a networking drinks event at the Jefferson in Fort Lane, Auckland on Thursday, 14 July 2016.
YIPs committee president
Myriam Mitchell
said the event, which is sponsored by Insurance Advisernet, would see members gathering from
IAG
,
AIG
, Tower,
Aon
,
Crombie Lockwood
and Chubb, to name just a few.
The fun begins at 5.30pm and ends at 8.30pm and tickets, which are limited in supply, are $25 for members and $40 for non-members.
Register
here
using the code HBYIPS.
Major insurer to hold fleet risk management seminar
Brokers who want to help their transport operator clients develop a better health and safety culture can get some tips at NZI's fleet risk management seminar at Ellerslie Event Centre on 8 July from 9am to 11am.
NZI will present its Traction programme, an online survey and consultancy service that can help businesses identify and minimise risks.
Traction includes an initial company-wide survey that looks at 15 key principles, practices, and behaviours around safety and risk; recommendation reports; and technical and strategic follow-up support.
According to NZI, it is a useful tool for helping transport operators meet new health and safety law requirement, such as staff participation, PCBU management and leadership responsibility.
Brokers interested in attending the seminar can email
nzi@nzi.co.nz
.
Related stories:
Insurer NZI's initiative to save tired truckies
Green light for $29.7 billion Chubb Ace merger
Conflict of interest cited in life sector report
Life insurer beats F&G sector to score coveted award