AXA XL creates new tool for coastal risks | Insurance Business New Zealand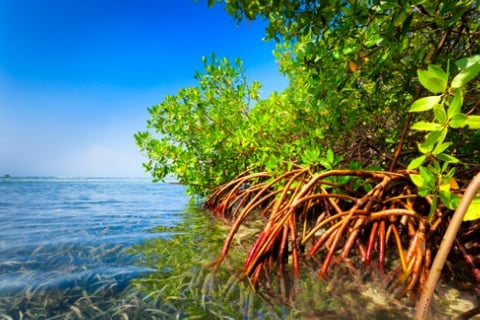 AXA XL has launched a new innovative tool that maps current and future flood hazards resulting from climate change and integrates the protective benefits of coastal ecosystems into insurance risk models.
Announced at the COP26 climate summit in Glasgow, the new tool, called Coastal Risk Index (CRI), was developed by AXA in partnership with its scientific partners: IHE Delft (Netherlands), University of California Sta Cruz (USA), and the Canadian government through the Ocean Risk and Resilience Action Alliance (ORRAA).
The tool assesses coastal flooding in the context of climate change by comparing scenarios with and without coastal ecosystems, such as coral reefs and mangroves, to help the industry come up with nature-based solutions.
Speaking at COP26 about the announcement of the new tool, Ulrike Decoene, the group chief communications, brand & sustainability officer at AXA Group, said the combined impacts of climate change and expanding coastal development mean coastal communities are facing increased ocean-related hazards, such as storm surge and flooding.
"As well as the devastating impact to livelihoods and local communities, rising seas and more dangerous storm events could cost coastal urban areas more than US$1 trillion annually by 2050," she added.
With the CRI, it is hoped the insurance industry can price risk more accurately and help private and public sector clients better understand their exposure to coastal flooding – ultimately helping to build economic and social reliance, Decoene explained.
AXA XL biodiversity director Chip Cunliffe added: "Mangrove and coral reef ecosystems are key to supporting risk mitigation and adaption efforts against the impacts of climate change. Calculating the resilience value of ecosystems is therefore critical for the lives and livelihoods of those communities on the frontline. With this greater knowledge, the CRI will also lead to more robust strategies to protect and restore these natural assets around the world."
The Coastal Risk Index (CRI)'s launch follows AXA's move to become one of the first signatories of a United Nations (UN)-backed initiative designed to protect the ocean against the impact of climate change.
Launched ahead of the COP26 climate summit, the UN-backed #BackBlue Ocean Finance Commitment, spearheaded by the Ocean Risk and Resilience Action Alliance (ORRAA), urges financial and insurance companies to incorporate ocean conservation in their business decisions.
Commenting on the initiative, Decoene said the scale and urgency of the challenges posed by ocean-derived risks call for a transformative and global response.
"Through the #BackBlue Ocean Finance Commitment, the private sector, including the insurance and wider finance industry, can collectively empower and mobilise action to build resilience providing long-term benefits for ocean-linked economies, local communities, and biodiversity across the world," she added.