Chubb CEO facing protests for environmental inaction – 70 groups join forces | Insurance Business New Zealand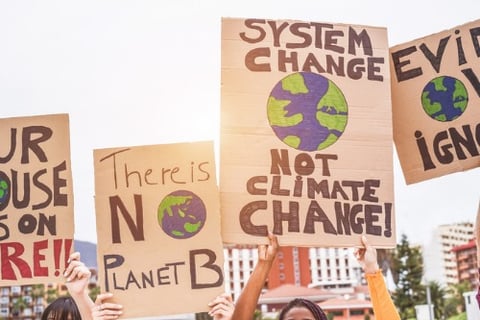 Seventy groups have joined forces in a letter calling on the CEO of Chubb to strengthen the company's coal policy and stop insuring new oil and gas. Citizens groups wearing masks depicting Chubb CEO Evan Greenberg delivered the letter to the insurers' headquarters in New York, Zurich and San Francisco in advance of the company's shareholder meeting Thursday.
Chubb was an early leader on climate among US insurers, according to Insure Our Future, a coalition of environmental, consumer protection, and grassroots organisations. In July 2019, Chubb became the first US company to adopt a coal policy, and Greenberg is one of the few US insurance CEOs who has been outspoken on the need for the industry to contribute to solving the climate crisis.
Greenberg said that Chubb's coal policy reflected "Chubb's commitment to do our part as a steward of the earth."
"Greenberg simply isn't living up to his rhetoric on climate," said Angelina Dobler, climate campaigner at Swiss activist organisation Campax. "Providing the insurance fossil fuel companies need to keep destroying our planet is certainly not being a good steward of the earth. We are in the midst of a climate catastrophe, and Greenberg's continued refusal to take action means Chubb is falling further and further behind its global peers."
A recent report by the International Energy Agency concluded that there is no room for any new coal, oil or gas in a pathway to achieve net-zero emissions by 2050. However, Chubb continues to support new fossil fuel projects around the world and has not ruled out insuring new coal mines, Insure Our Future said.
"There is no excuse to support new coal, oil, and gas projects that are torching our planet," said Pete Sikora, climate and inequality campaigns director for New York Communities for Change. "If Evan Greenberg wants Chubb to be a climate leader, he should rule out all new fossil fuel projects, like yesterday. Anything less is corporate greenwashing."
At least 26 major insurers globally have adopted coal policies – most of them stronger than Chubb's, it is claimed. Insurers have also begun to adopt policies on tar sands, arctic drilling, and oil and gas more broadly.
Chubb, however, is one of the world's top eight insurers of oil and gas, according to Insure Our Future. The company continues to insure projects such as the Trans Mountain Pipeline in Canada – a project so controversial that Trans Mountain recently applied for – and was granted – the right to conceal the names of its insurers. Chubb has also not ruled out insurance for the carbon-intensive tar sands sector, a move eleven insurers have already made.
The letter to Greenberg was signed by Indigenous peoples, climate justice groups, community organisations and public health groups. The letter states that Chubb has not taken a single step on climate since adopting its 2019 policy.
"Through your refusal to take further action, Chubb has gone from a leader to a laggard," the letter said.
The letter called on Chubb to adopt the following measures:
Immediately stop insuring new and expanded coal, oil, and gas projects.
Immediately stop insuring coal companies.
Phase out insurance for oil and gas companies.
Divest all assets, including assets managed by third parties, from coal, oil, and gas companies not aligned with a 1.5°C pathway.
Bring stewardship activities, membership of trade associations and public positions as a shareholder and corporate citizen in line with a 1.5°C in a transparent way.
Establish due diligence and verification mechanisms to ensure that clients fully respect and observe all human rights, including the right to free, prior and informed consent as articulated in the United Nations' Declaration on the Rights of Indigenous Peoples.
The letter also called on Chubb to commit to not insuring the Trans Mountain Pipeline and its expansion in advance of the Aug. 31 renewal date.