YouTuber joins Carl Fogarty as Bikesure brand ambassador | Insurance Business UK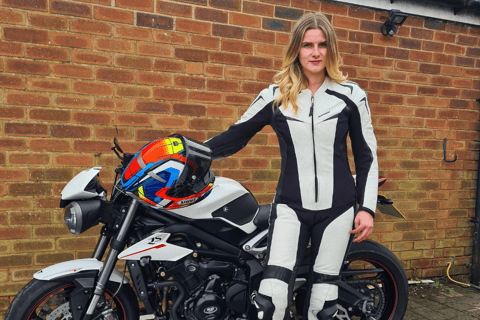 Kate Ralph (pictured), the creator behind YouTube channel Username Kate, has been provided a wider platform to help inspire women riders via her new capacity as the first female brand ambassador of Adrian Flux Insurance Group's motorcycle insurance broker Bikesure.
"I never expected something like this to happen with Bikesure," said the 29-year-old, who has just been vlogging for three years but already enjoys more than 15,000 subscribers and nearly 1.5 million views for her videos, "and I was taken aback when they got in touch.
"It's a really good opportunity for me and if I can inspire more women to ride, or even short people as I always get told I'm so small to be riding these massive bikes, then that would be brilliant. There's plenty of women riding now but we're still underrepresented and I'd love to help more get into riding."
Standing at 5ft 4in, Ralph is a Bolton-based biker who works as a sales executive at a motorcycle dealership in Manchester. She owns a Triumph Street Triple 765 RS, a Suzuki GSXR 750 K6 track bike, and a Beta Alp 200, and has been riding for 13 years.
"I started filming really as a bit of a personal diary to look back on things when I did a Euro trip in 2017," recalled the vlogger, who now joins Superbike legend Carl Fogarty as a face of Bikesure. "I wanted my mum and dad to be able to watch what I'd done and where we'd been.
"I never thought about trying to become a YouTuber or an influencer. I hate even using those words. I uploaded a few videos – there was a flood of comments that I replied to and the majority were really friendly, and I just started making more videos."
Ralph's vlogs include test rides and product reviews, as well as a peek into her life as daughter of a motorbike aficionado.
"The world of social media and vlogging shows no signs of slowing down, and Kate is the perfect partner for Bikesure to step into this area," stated Bikesure general manager Rob Balls. "Kate's content is fun; she's passionate about bikes and wants to help inspire the next generation of female riders.
"They're all attributes that match ours at Bikesure because we're keen to grow and support all parts of the biking community."
Balls believes the partnership will help take both Ralph's and Bikesure's name to a fresh audience.
Meanwhile, referring to Fogarty, the new brand ambassador added: "He's an absolute legend and hopefully I can show things about riding from a different angle. I'm really excited about maybe, hopefully, doing some things with him. Dad would be pretty impressed."