Jump to winners | Jump to methodology
Leaning in, moving up
Insurance Business Australia is proud to present the winners of the 2022 Elite Women awards. This year's champions represent an intelligent and diverse group of professionals who, when they've taken their hands off the ladder to success, have only done so to pull more women up with them. They've put in the hours to master their fields and helped with volunteer activities – as well as advocating for diversity, equity, and inclusion (DEI) – blazing a righteous path for the next generation to follow.
Women in the insurance industry in Australia have been doing better in some ways and not so well in others. According to Australian government statistics, women now make up more than half of the workforce, and they are pursuing educational opportunities at a greater rate than men. While Australian women hold only 17.6% of chair positions, those in insurance fill 23.7% of chair positions, according to Swiss Re. Conversely, although the pay gap for women in general is 13.8%, the pay gap for women in the financial and insurance sector is 22.6%, according to the Workplace Gender Equality Agency.
"Our team of women is empathetic, engaging, and focused, and we inspire them to reach their goals and achieve all that they can"
Jane Martin, Oracle Group Insurance Brokers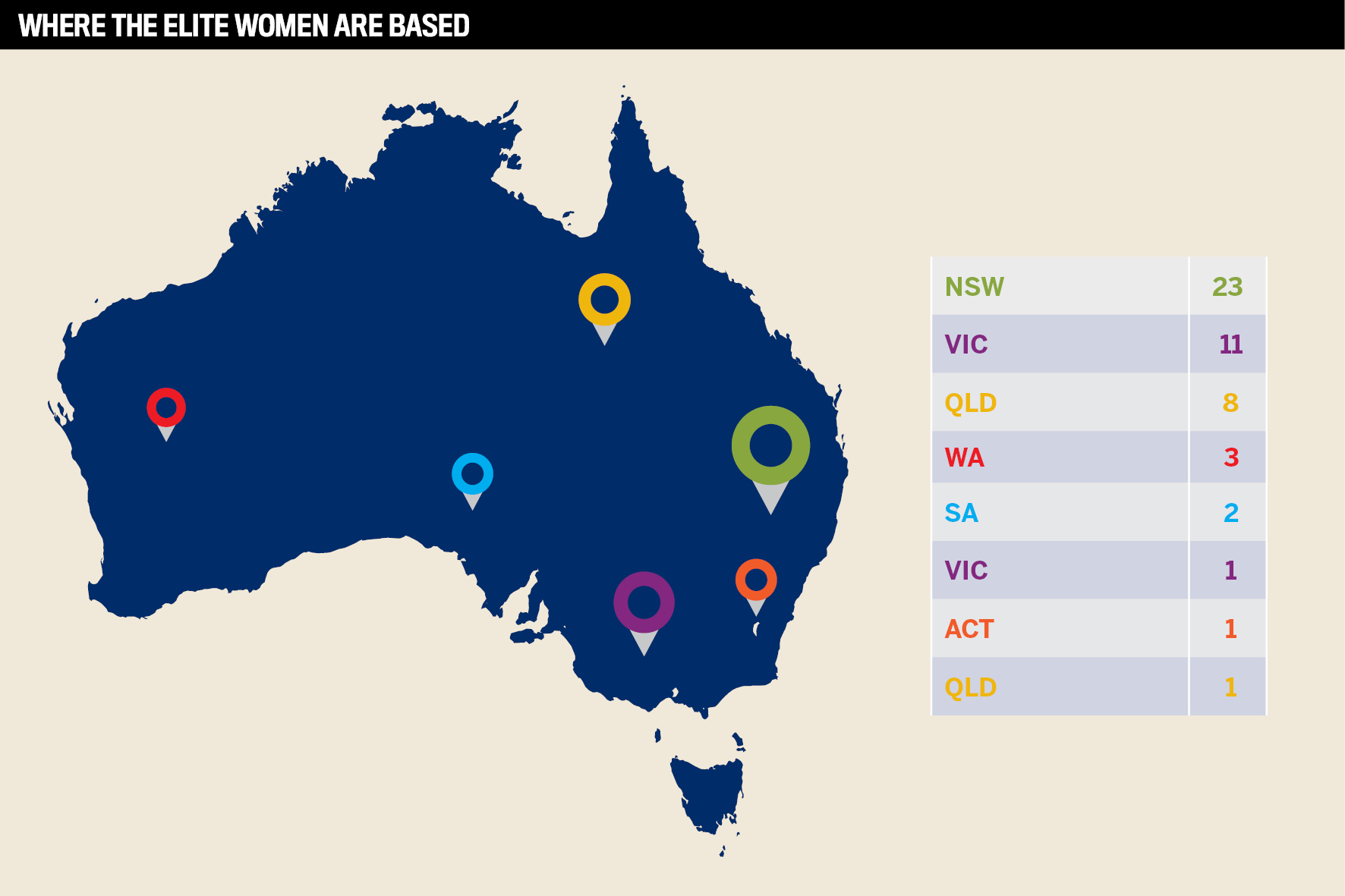 Driving growth and good will
One of this year's award winners is Jane Martin. Over 30 years ago, she fell into insurance by chance, then fell in love with the industry and has since risen through the ranks to become the director of authorised representatives (ARs) and the state managing director of Oracle Group (Australia), Victorian division.
Her professional accomplishments are numerous. Throughout her career, she has distinguished herself by excelling in client collaboration and mentoring team members. She is also a firm believer in DEI and has worked to recruit and train diverse new hires with little to no experience in insurance.
In general, she says, life has been challenging over the past few years. "Women have sometimes struggled more during the pandemic, as often they are the main caregivers and could be juggling work, children, home schooling, and extended family members," says Martin. "I've seen all our team go through elements of this, and the key has been to be personally connected to them, be supportive and understanding."
In particular, Martin has faced three challenges. First, mobilising staff to work remotely in the face of lockdowns. Second, continuing staff development in the face of remote working conditions. And third, dealing with the hard market and capacity challenges through educating clients on market conditions.
On the issue of pay disparities, she says that while they do exist in the industry, she's happy with Oracle's pay policies.
"Seeing our organisation's approach demonstrates that gender equality is improving," she says. "Collectively, we have a long way to go, but the sheer number of key women identified through Elite Women in Insurance shows the landscape is shifting."
Since taking on her new role as director of ARs, she has more than doubled Oracle's AR network, helping the company to win the 2022 IB Fast Brokerage award.
Overall, Martin thinks women are key drivers of change. "We have been extremely fortunate at Oracle Group that women in our organisation outnumber their male counterparts – not for any specific reason other than we select the right people for the right job," she says. "Our team of women is empathetic, engaging, and focused, and we inspire them to reach their goals and achieve all that they can."
"If this is something that you really want to do, if you believe in it, simply keep forging forward because success will come"
Jessica Jenkins, Brooklyn Underwriting
Normalising mental health challenges
Another Elite Woman is Jessica Jenkins, relationship manager at Brooklyn Underwriting and co-founder of the Women's Wellness Hour of Power. Her accomplishments include being elected to local government in Victoria at the age of 19. Leveraging her own difficult experiences during and after pregnancy, Jenkins has become an advocate for helping normalise some of the challenges associated with mental health. She has also been active in DEI activities, volunteer programs, and discussion groups.
For Jenkins, the global pandemic has added pressure to existing triggers for women of all ages, amplifying financial stress and mental health issues. "Lockdowns [resulted in] reduced social support and connection, creating a fragmented disconnect and social isolation from friends, family, and support networks that most women and young mums rely upon," she says. "Lockdowns also meant 'no buffer' between work and home life with schools and childcare centres closed, children at home requiring care or home schooling when usually at school or in care, adding to the pressure of managing paid and unpaid work all under one roof."
In particular, Jenkins says the challenges of the past few years have forced her to overcome her perfectionism. While working at home, she quickly found that her young child would interrupt important business and client meetings. At first, she was horrified. Then, she realised that everyone was understanding, and the domestic quirks helped humanise the situation. "Absolutely, it was not comfortable managing a toddler and working remotely; however, I got my trusty journal out and reflected on the day," says Jenkins. "Was it bad? I was safe in my home and had the ability to work remotely while sadly, many others did not have that luxury."
On the issue of pay disparities, she says the pandemic might have accelerated the shift to flexible working and is contributing to the progress towards financial equality for women.
Overall, Jenkins believes in the power of will. "If this is something that you really want to do, if you believe in it, simply keep forging forward because success will come," she says.
"Today, women still face the struggle of trying to find a good work-life balance and dealing with 'mum guilt' of being in high-performing roles with multiple demands"
Poppy Foxton, Honan

Author of her own destiny
Poppy Foxton, another Elite Woman this year, is the national head of corporate insurance and risk solutions at Honan. She has been in the game for more than 13 years, forging a path through claims, risk consulting, and corporate broking to her current role.
One of her professional accomplishments is acquiring an ANZIIF diploma in insurance broking. She has also authored articles on insurance disruptors and market conditions that have been published in the Wall Street Journal and The Australian. As the lead of a mostly male team, she has focused on DEI and has mentored many, including fellow award winners Maja Vujinovic and Christie Mitsas. Foxton is also a member of the Honan Social Impact team, which drives environmental, social and governance strategy at the company.
Like Martin and Jenkins, Foxton says the lockdowns were especially challenging to women. "Today, women still face the struggle of trying to find a good work-life balance and dealing with 'mum guilt' of being in high-performing roles with multiple demands," says Foxton. "Many women have to work part time to accommodate this, meaning they end up doing a full-time job after hours and well after kids' bedtime or [having] limited career progression."
She notes three challenges over the past few years. First, returning to work after maternity leave. Second, struggling to work from home during lockdowns. Third, continuing to assert herself as a high-ranking professional woman in an industry still considered to be a man's world.
On the issue of pay disparities, Foxton says it's still very real but doesn't think it's outright intentional. "Sometimes it is due to women taking a break to raise children while their male counterparts continue to progress in terms of salary," she says. "Also, it may be a generalisation, but one that holds true, that some women struggle to ask for what they are worth even when they outperform males around them."
Among Foxton's accolades are the 2021 ANZIIF Making a Difference in Claims award. She also led the Indigo Project, which won two industry awards, 5-Star Insurance Innovator and 5-Star Insurance Technology.
In the meantime, she thinks women in the industry could benefit from better networking functions. "I have noticed that a lot of women's networking functions are based around a lunch, where the majority of time is spent listening to speakers and panels," says Foxton. "While this is enjoyable and educational, it leaves very little time for actual networking. I would love to see more industry events built around genuine networking opportunities that women will enjoy. Men tend to be good at this, as there is always time to talk shop over a game of golf."
Abbie Wilson


Your Trusted Broker




National Insurance Brokers

Aimee Pozoglou


National Practice Leader, Commercial Lines




ProRisk (Professional Risk Underwriting)

Amanda Morris


Managing Director




ARMA Insurance Brokers and Broker Base Pro

Angela Fitzpatrick


Head of Key Account Management




Crawford & Company

Anita Lane


Director




Solution Underwriting Agency

Belinda Speirs


Group General Counsel




Suncorp

Catherine Carlyon


Country Manager, Australia




AXA XL

Cathy Mitchell


National Senior Facilities Underwriter




Berkley Insurance Australia

Chloe Thomas


National Claims Manager




ProRisk

Christie Mitsas


Client Manager, Private Client Group




Honan Insurance Group

Christine Bell


Country Head, Australia and New Zealand




Swiss Re Corporate Solutions

Denise Gammie


Account Executive




Brookvale Insurance Brokers

Emma Thomas


Chief Executive Officer




Achmea

Heather Blanco


Chief Executive Officer




SUREWiSE

Ilona Horvath


Head of Liability, Financial Lines & Construction Claims




QBE

Jane Mason


Head of Product, Channels and Risk




BizCover

Jane Smith


Head of Energy and Power – Pacific




Marsh

Kirsty Owens


State Manager SA and National Portfolio Manager SCTP




Berkley Insurance Australia

Lara Morgan


Partner




allinsure

Lisa Carter


Managing Director




Clear Insurance

Lucy Roberts


Director




Interlink Insurance Brokers

Maja Vujinovic


Head of Risksmart




Honan Insurance Group

Maria Parry


Chief Operating Officer




QIB Group Holdings

Marni Jackson


Head of Product – Vehicle




Youi Insurance

Menna Troughton


Brisbane Metro Domestic Operations and Account Manager




Crawford & Company

Natasha Barker


Manager, Corporate




Gallagher

Nicole Eldridge


Director of Insurance




AUZi Insurance

Poppy Foxton


National Head of Corporate Insurance and Risk Solutions




Honan Insurance Group

Prue Willsford


Chief Executive Officer




Australian and New Zealand Institute of Insurance and Finance

Rebecca Innes


Senior Broker




ProBuild Insurance Brokers

Rebecca Stirton


Training and Quality Assurance Manager – Claims




Adica Insurance

Rita Gillam


General Counsel and Chief Risk Officer




DUAL Asia Pacific

Sally Richardson


Marketing Director




Arteva Funding

Sarah Lyons


Chief Executive Officer – Australia




Gallagher

Skye Theodorou


Co-Founder and CEO




upcover

Suzi Leung


Chief Claims Officer




Zurich Financial Services

Tanushree Arora-Sopori


Director




Imperium Insurance and Financial Solutions

Wendy Foweraker


Executive Manager, Broking Operations




Community Broker Network
Nominators were asked to describe their nominee's standout professional achievements over the past 12 months, along with their contributions to diversity and inclusion in the industry and how they've given back through volunteer roles and charity work. Recommendations from managers and senior industry professionals were also taken into account.