Jump to winners | Jump to methodology | View PDF
OUTSHINING THE COMPETITION
As if last year wasn't tough enough, COVID-19 has kept a firm grip on the global economy in 2021, and the insurance industry has experienced the ongoing impact of a hardening market with rising premiums. Cyberattacks have become one of the most serious challenges to the industry – one industry veteran told IB that the number of cyberattack claims is now "scary".
And just when it looked like natural catastrophes were taking a break, a string of disasters struck the country. There were floods in NSW and Victoria, cyclones from Queensland to Western Australia, and storms in Perth. Once again, the insurance industry's weak spots were exposed, from long wait times to outdated technology and lack of capacity.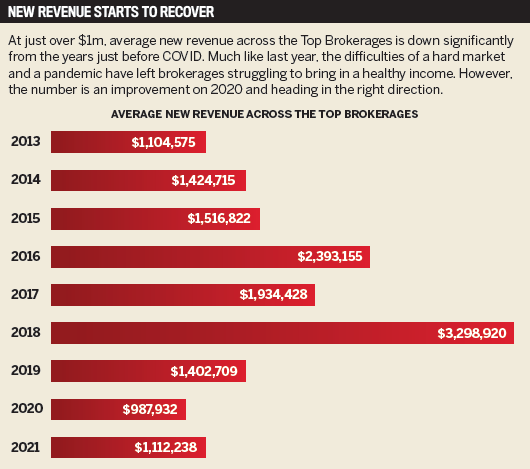 Given their heavy reliance on insurers, brokerages have suffered accordingly. Despite a tradition of face-to-face relationships, they've also had to endure much of the year engaging with their customers via video-conferencing and mobile phones. With or without COVID, remote working seems here to stay for much of the industry, putting technologically agile brokerages in the best position to adapt.
IB's survey for this year's Top Brokerages report suggests that many brokerages have successfully navigated the monumental changes of the past 18 months and things are starting to look up. While last year's report showed nosediving revenue, this year's Top Brokerages have managed to stop that dive, and some have increased client numbers and revenue significantly.
As the end of 2021 draws nearer, many brokerages have a right to feel a little more optimistic about their future.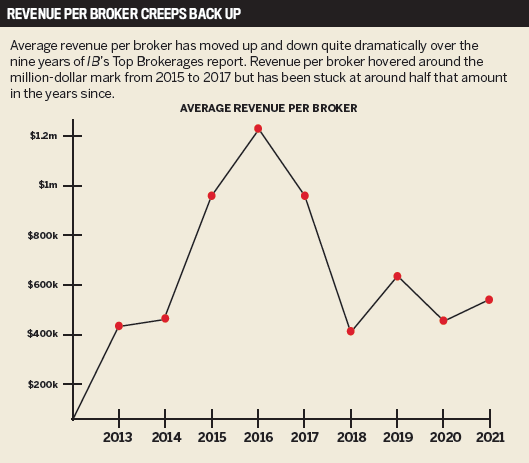 The long road to recovery
While this year's survey shows that many brokerages are starting to recover economically, it's still hard going.
"Remaining relevant in a market that is driven by price and not advice or service continues to be the biggest challenge that we face," says Nigel King, director of finance and corporate affairs at Austbrokers Coast to Coast. "This is even more concerning in the COVID-19 space, where clients are reducing their level of coverage and are trying to save money in relation to their premiums."
In addition to the overall commoditisation of the industry, King says he's also concerned about competing with direct insurers on price. But even with these ongoing challenges, the brokerage's results in several categories were impressive. Coming in at number six overall, Austbrokers Coast to Coast ranked in the top three for average number of clients per broker and the top five for both number of policies written and average number of policies written per broker.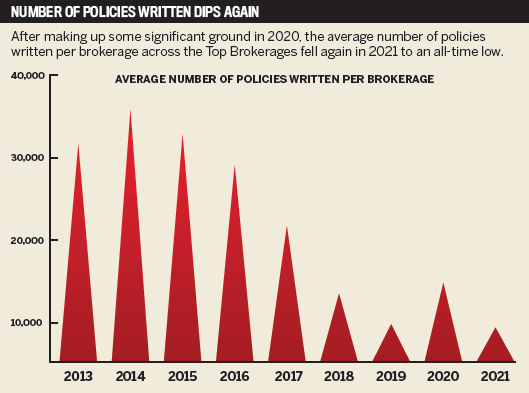 King puts this success down to service. "We provide a very high level of service to our clients," he says.
McLardy McShane, meanwhile, came in at an impressive number two overall and was at the top of the rankings for number of policies written. McLardy McShane also did well growing its client base, expanding it by 25% and ranking number two in that category.
General manager Meg Long attributes some of the brokerage's success to expanding with quality employees. "Managing our rapid national expansion – remotely – has presented challenges," she says, "yet we continue to grow during these unprecedented times and attract quality people to our group."
The brokerage also runs the McLardy McShane Fight MND Golf Challenge and participates in the annual Daniher's Drive, both of which raise funds and awareness for motor neurone disease. In 2021, the brokerage has raised more than $100,000 for the Daniher's Drive.
Like King, Long remains concerned about the continuing repercussions of the pandemic, including the need to provide continual support to the brokerage's network of staff and clients.
Ranking at number 15 overall, ARMA Insurance Brokers Hunter Valley achieved good results across three key categories: overall clients, clients per broker and client growth, which was up 15%.
Managing director Amanda Morris says her company's Top Brokerage status this year is largely to do with leadership.
"That, along with having strong foundations, a rock-solid culture and a clear vision, has held my brokerage in good stead and shown that doing the hard work for clients, day in, day out, will always prevail," she says.
But it's not without its challenges, Morris adds. "In a hard market, insurer capacity is always a challenge. For active brokers who consistently show value to their clients, the past year has been a good one. A hard market has seen movement from clients, which has worked in our favour."
Morris, who launched the coaching business Broker Base last year to train and mentor fellow insurance brokers, says training has also been a challenge. "I have a rather young team of brokers in training who also require time and attention, which I love to give, but it is also a challenge in this climate."
The best of the best
This year's standout performer, for the second year in a row, was Shielded Insurance Brokers. The brokerage doubled its client base over the past year and also ranked in the top three for both number of clients per broker and revenue from new policies.
"It's been another huge growth year for us at Shielded," says managing director Stuart Brady, whose brokerage supports the charities Act for Kids and Mindfull Aus. "Our ongoing challenge is growing smart and consistently reviewing efficiencies across teams and processes."
Brady adds that open communication has been key to Shielded's success during this period of growth.
"I'd say the key to success this past year has been sharing our vision and plans with the team," he says. "Training and development of staff, including their engagement and feedback, will continue to improve our culture, processes and outcomes."
4. Dunk Insurance
5. Triton Broking Services
7. (tie) Elliott Insurance Brokers
7. (tie) Trade Risk
9. Stewart Insurance Group
10. National Credit Insurance
11. Dixon Insurance Services
12. allinsure
13. Ian Jones Insurance Brokers
15. Lighthouse Insurance Brokers
16. Bell Partners Insurance
17. (tie) Thompson Insurance
17. (tie) Hunter Broking Group
18. Clear Insurance