Jump to winners | Jump to methodology | View PDF
SUPPORT DURING TOUGH TIMES
The past 18 months have been a time like no other for employers across the globe. Work-life balance, health and wellbeing, and remote working have been catapulted to the top of the management agenda for insurance companies. Coupled with the changing expectations of a newer workforce, this has forced companies across the insurance and financial services spectrum to reconsider the qualities that constitute a great workplace.

While some issues, like diversity and inclusion, training, and career progression, have been topics of discussion in the Australian insurance sector for a long time, other concerns, such as flexible working, out-of-work responsibilities, and physical and mental wellbeing, have attracted more attention during the pandemic. Employers have had to focus their efforts on how to maintain a happy and healthy workforce in a setting where work and home life can so easily blend.
The inaugural Insurance Business Top Insurance Employers list celebrates the companies that have shown their commitment to their employees through their stellar values, benefits and culture.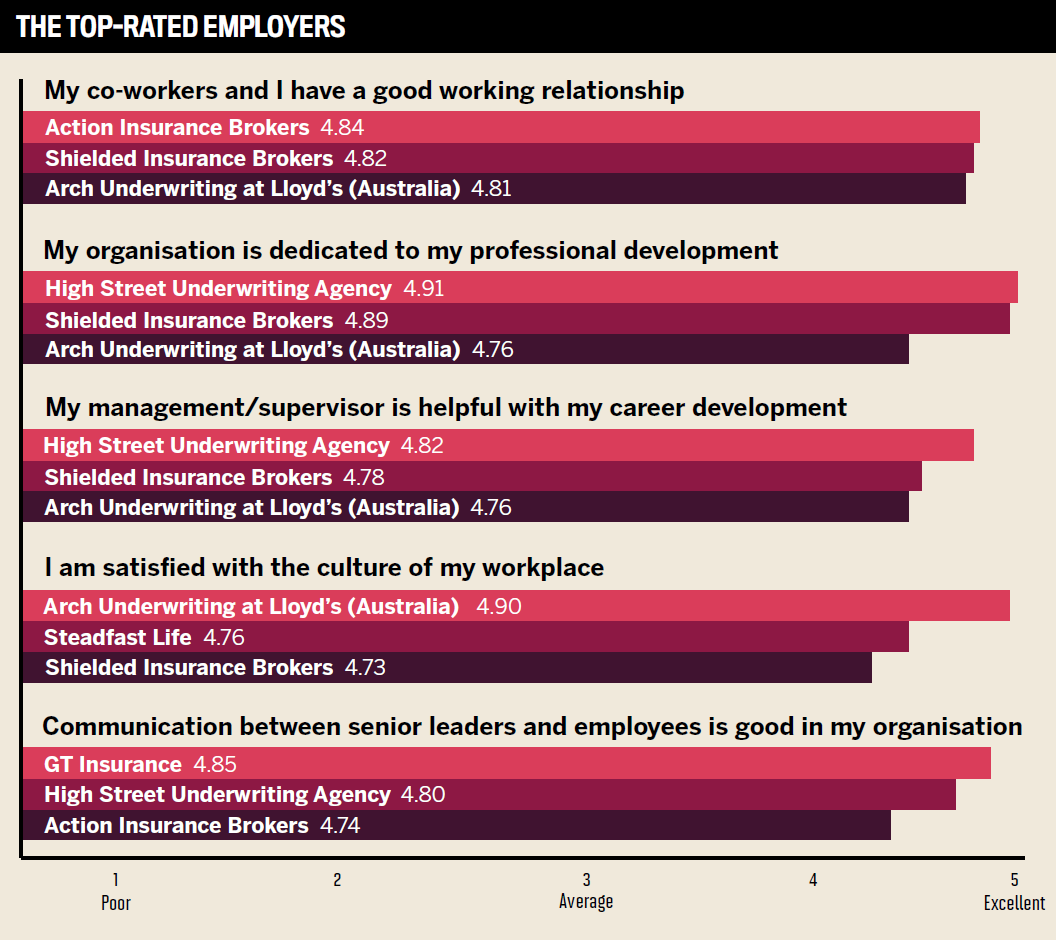 Rethinking the workplace
According to IB's survey, one of the main issues to arise from remote working during the pandemic has been work-life balance. As parents juggle homeschooling, increased domestic responsibilities and work, companies have been more conscious than ever of enabling their employees to maintain a clear distinction between their home and working lives. This has brought a slew of new benefits as organisations encourage their employees to take time out for the things that truly matter to them.

Many of IB's Top Insurance Employers offer a range of flexible work options to help their employees balance their work and personal commitments, including part-time hours, flexible start and finish times, remote work, job sharing, and a flexible return from parental leave.

GT Insurance, for example, flexes the workday to suit its employees' lifestyles. "Employees can start and finish work to fit in with dropping off and picking up children from school," says Tony Dodd, CEO of GT Insurance. "Employees can also work reduced days to fit in with their personal life/circumstances."

Fellow Top Insurance Employer Bruce Insurance also offers flexible working hours for working parents, as well as flexible start and finish times for staff who have longer commutes. Other employers upped the ante on flexibility in light of the pandemic – QBE, for instance, added 10 days of COVID-19 special leave as an interim inclusion to its leave policy to support individuals who had exhausted their leave due to COVID-19- related situations.

Employee health and wellness was also a key theme throughout the survey, as the pandemic highlighted the important role employers play in supporting the mental and physical health of their employees. The majority of IB's Top Insurance Employers offer health and mental wellness benefits for their employees, including mental health training and wellness days.

At GT Insurance, "managers and team leaders received training on how to look out for signs of distress or unhealthy working behaviours from staff," Dodd says, and managers also held daily wellbeing-focused meetings for their teams.

Top Insurance Employers with larger workforces developed resources during the pandemic to support the move to remote work and provide their employees with tools to deal with isolation. Some also offered wellbeing coaching, financial coaching, dietary support, legal advice, confidential counselling, flu shots, private health insurance, employee assistance programs, and even mental health training and accreditation for employees.

The rise of remote work also forced employers to re-examine their communication strategies and digital tools. Many of the Top Insurance Employers responded to lockdowns by establishing hybrid working practices without comprise to service or collaboration. Through online platforms, many employers were able to maintain communication and engagement and coordinate virtual activities for their teams – and even, in the case of Action Insurance Brokers, a virtual lunchroom.

While all of this year's Top Insurance Employers have invested heavily in digital tools to communicate effectively with remote staff, many organisations noted that one-on-one time with managers and opportunities to voice concerns are also important.

Culture and D&I
In addition to the issues raised by the COVID-19 pandemic, diversity and inclusion strategies continue to be a core part of the Top Insurance Employers' focus. Most of the 2021 winners highlighted strong male-to-female ratios across both general and leadership roles, and all companies affirmed their dedication to hiring from all backgrounds and walks of life.

Diversity initiatives such as standing committees, ally networks and employee resource groups were common across the Top Insurance Employers, and several also celebrated Pride Week, International Women's Day and Harmony Day in their workplaces with events and newsletters.

Diversity and inclusion is just one element of creating a supportive culture – something all of this year's Top Insurance Employers take to heart.

"What started out as small family business in the 1980s has become a successful and thriving medium/large privately owned brokerage that looks on its staff as family," says Murray Bruce, managing director at Bruce Insurance. "The focus of Bruce Insurance has always been quality service. To do this, we need to attract the right employees."

Amanda Bush, group operations manager at Action Insurance Brokers, says that "a key characteristic of the Action Insurance Brokers business is its positive and supportive culture. Team members describe being part of the 'Action family' with pride."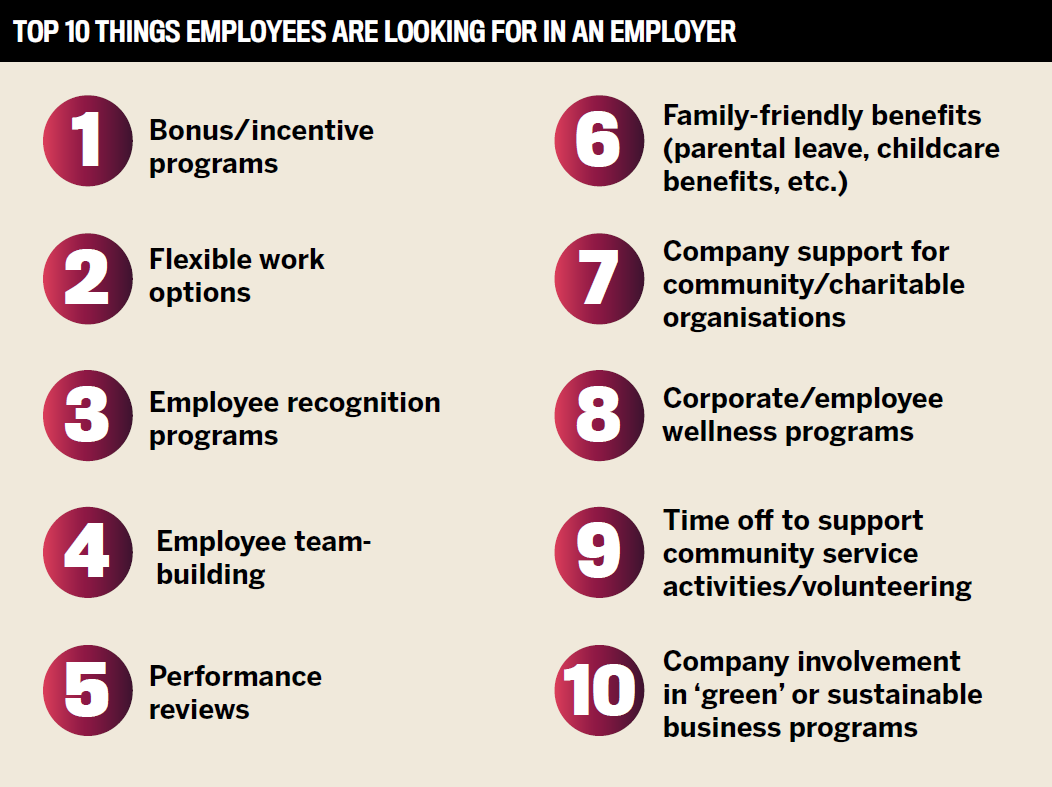 Developing and rewarding employees
Over the past 12 months, the Top Insurance Employers have invested heavily in learning and development to help their employees acquire the skills they needed to survive and thrive during the pandemic. Among the comprehensive learning and development programs offered by this year's winners are virtual leadership programs, underwriting and claims universities, early careers academies, mentoring circles and reverse mentoring, and self-directed training.

Action Insurance Brokers provides its staff with funded formal study pathways, as well as on-the-job peer coaching and access to external training programs. At GT Insurance, all new employees who join the company are provided with a range of online training modules to learn about the regulatory framework of the business.

Recognising and rewarding employees' success is also paramount for Australia's Top Insurance Employers, who have invested heavily in fostering a culture where employees feel valued and appreciated. Employees surveyed by IB reported receiving benefits such as national excellence awards, bonus leave, travel incentives and cash vouchers. At GT Insurance, employees are rewarded for delivering customer experiences that exceed expectations.

"With everyone's dedication to fulfilling our company values, we have made GT an employer of choice," Dodd says.

Without a doubt, the definition of what makes a good workplace has shifted dramatically over the past 18 months, and long-shelved issues of flexible working and employee wellness have taken centre stage. However, this year's Top Insurance Employers prove that the Australian insurance sector has risen to the challenge and is committed to fostering a strong, diverse, rewarding and supportive environment going forward.
500+ employees
QBE Insurance (Australia)
101 to 500 employees
AIG Australia
BizCover
DUAL Australia
26 to 100 employees
Arch Underwriting at Lloyd's (Australia)
High Street Underwriting Agency
Holman Webb Lawyers
McLardy McShane Insurance Brokers
Shielded Insurance Brokers
10 to 25 employees
Ian Jones Insurance Brokers
Steadfast Life