AAMI: Half of Australian drivers fail to notice speed limit signs | Insurance Business Australia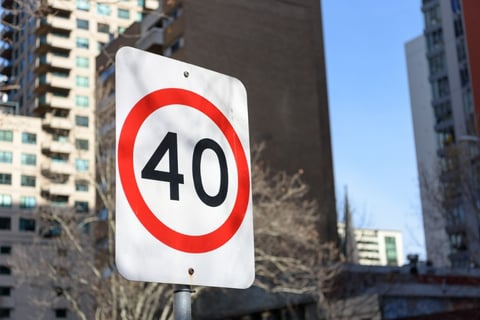 With students heading back to school, the Australian Associated Motor Insurance (AAMI) has shared some concerning results of new research, which showed that nearly half (46%) of Australian drivers admitted to speeding because they failed to notice signs indicating a change in the speed limit – putting students at risk.
Other reasons drivers were speeding included: driving on autopilot (35%); being distracted and thinking about something else (29%); rushing to get to their destination (23%); impatience (20%); and not knowing what time school zones apply (8%).
When it comes to the most common time for crashes, the AAMI found that afternoons during school pick-up hours (between 1:00 pm and 4:30 pm) is the most common time based on more than 360,000 motor insurance claims across the country from July 01, 2020, to June 30, 2021.
Meanwhile, the AAMI Crash Index revealed that Brisbane, Canberra, Adelaide, and Perth were the top car crash hotspots based on over 360,000 motor insurance claims across Australia from July 01, 2020, to June 30, 2021.
Read more: AAMI launches industry-first virtual employee
More than half (56%) of those who admitted to speeding claimed to only do so by less than 10km/hr over the speed limit.
Australian Road Safety Foundation CEO Russell White warned that speeding, even a few kilometres over the speed limit in a school zone, can be the difference between life and death – noting the foundation's statistics indicating that 1,127 people were killed on Australian roads in 2021, up 2.9% from 2020, with 11% of these fatalities were children below 18 years old.
"With the new school year upon us, we'll be seeing preppies starting school for the first time and many children returning to school after what has been an incredibly interrupted two years due to COVID," said White. "Some children may not have developed – or may have forgotten – their road safety skills, and so it is up to drivers to ensure they are following the road rules, adhering to speed limits, and staying alert when behind the wheel."
AAMI advised drivers to expect the unexpected because children have limited road-safety awareness and experience compared with adults. The insurer also advised drivers to always look out for children disembarking from vehicles, and follow the school's safety directives when dropping off or picking up children.
"Our data tells us Aussie drivers are getting distracted behind the wheel and lack of attention is the common theme running through the reasons drivers give for speeding. Distracted drivers and the unpredictable nature of children around roads is a recipe for disaster," said Kahl Dwight, executive manager motor and specialty claims at AAMI.