AAMI launches industry-first virtual employee | Insurance Business Australia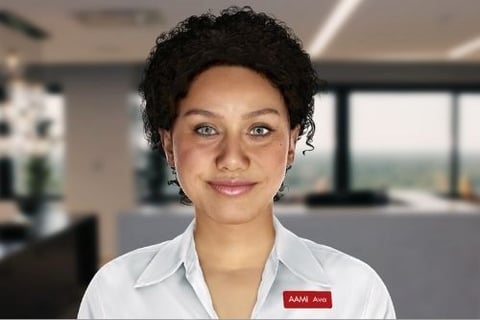 The Australian Associated Motor Insurers (AAMI) has launched a global industry-first virtual employee, allowing customers to interact directly with a virtual human while checking out insurance products online.
AAMI's digital employee pilot, Ava, comes with a "brain" and a face that customers can interact with by turning on their microphone and camera then asking questions. The virtual employee has a wealth of insurance knowledge, personality, and emotional intelligence to adapt to a customer's face and tone.
Katherine Carmody, the executive general manager of digital distribution at AAMI, highlighted the need to adapt to provide excellent customer service as people's way of engaging with insurers continues to change.
"We are so excited to have Ava as part of the team and to transform the way we support and interact with our customers," Carmody added.
AAMI partnered with tech company Soul Machines for the development of the digital employee.
Greg Cross, the chief business officer and co-founder of Soul Machines, said Ava's emotional intelligence and intuitive functionality stemmed from her digital brain, built like a human brain.
"Ava is powered by the Soul Machines Human OS platform, the world's leading autonomous animation technology, and features a patented digital brain," Cross said.
"The Human OS platform is based on extensive research in psychology, neuroscience, and cognitive sciences that allows for emotionally intelligent and engaging conversations between brands and their customers," he continued. "It brings Ava to life in the same way our own brains bring each and every one of us to life."
AAMI has launched an Ava trial with some of its motor insurance customers, a pool expected to grow in line with her intelligence. The insurer also trained the digital employee to answer questions about policy coverage, price, discounts, excess, optional extras, and claims and payment options.
"This is cutting edge technology that propels us into the future," Carmody said. "What we will learn from the Ava trial will be invaluable when it comes to humanising our digital experience and revolutionising our customer service offering.
"We're leading the way with insurance technology, and Ava is just another example of how we're doing it."