Allianz offers tips on preparing for hybrid work | Insurance Business Australia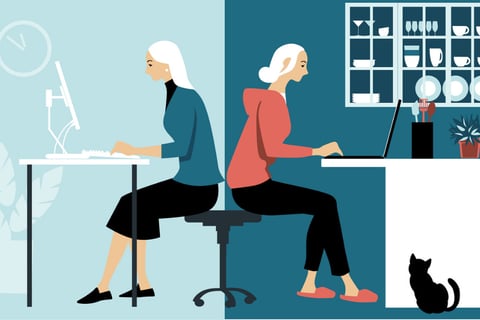 Many people were forced to work from home when the COVID-19 pandemic hit Australia in 2020. Now that the country is recovering from the pandemic, many organisations have decided to adopt hybrid working, a flexible work model supporting a combination of in-office, remote, and on-the-go workers.
In a recent blog post, Allianz explained that many employees benefitted from the trend towards digitalisation, including flexibility to choose how, where, and when to work. However, others have experienced loneliness, isolation, and disconnection due to working remotely.
With a digital-led hybrid model of working set to become the norm, Allianz suggests finding balance and minimising risks. In its 2021 report, "Finding Balance in the Modern Workplace," the insurance giant advised employees to set clear parameters that suit their work-life balance.
"As an employee, discover and communicate what measures and boundaries will help you achieve a more sustainable work-life balance, based on your industry and role. This can be achieved by setting clear expectations about your working hours, making time to transition from work to personal time, avoiding work-related communication platforms outside of work hours, and scheduling breaks throughout the working day," Allianz shared in the report.
Read more: Allianz Global Insurance Report: 2021 was a good year for the industry
Meanwhile, employers must encourage a healthy work-life balance and lead with empathy.
"Scheduling regular check-ins with staff to discuss wellbeing and encouraging staff to switch off at the end of the day are great ways to start the conversation with employees," according to Allianz. "While every environment is unique, it's important to consider your industry and provide tangible solutions on how to support employees in establishing a safe and rewarding workplace."
Focusing on an empathetic approach to leading, the report advised employers and management to ensure their people feel supported during stressful times.
"For example, avoid contacting staff outside of their set or agreed-upon working hours, set guidelines and parameters on responding to work-related communications outside of the working day, and set tasks that are realistically achievable to avoid their loss of the Third Space," it said.
Reflecting on changes in work models, Anna Stavropoulos, general manager (human resources) at Allianz, emphasised the role of technology in ensuring the success of a hybrid work model, which she deemed the most sustainable long-term work model.
"Technology is a key enabler," Stavropoulos said. "But the extent to which employers adopt virtual tools that support a seamless employee experience will be crucial to making the hybrid model work."