Aviva CEO on delivering a new phase of the insurer's journey | Insurance Business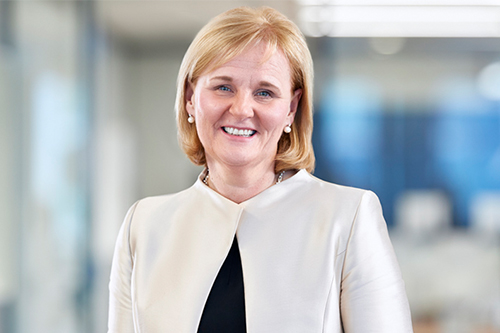 After a "thorough, rigorous and robust" appointment process, Amanda Blanc (pictured) has taken up the role of CEO at the insurance giant, Aviva, becoming the first female chief executive of the business in its 324-year history. Speaking on the appointment at a press conference yesterday morning, the chairman of Aviva, George Culmer noted that, following a full market assessment, Blanc was the standout candidate, bringing to the role her substantial industry experience as well as the energy, focus and ambition required to deliver the next phase of Aviva's journey.
Read more: Aviva names new CEO
Blanc noted that, having started her insurance career at Commercial Union, which subsequently became part of Aviva, the appointment feels a bit like coming home. When speaking with friends and family about the possibility of returning to an executive position again, she said, she was clear that the only role which might tempt her back would be the opportunity to lead Aviva.
"Aviva is and should be a great company," she said. "It has a well-known brand, dedicated employees and a focus on delivering great service. It is financially strong, it has scale, a broad customer base, excellent partners and geographical reach. It has all the elements to succeed and I will bring all my energy, enthusiasm and 30 years of industry experience to make sure we do just that.
"Aviva once set the tone for the industry. It was innovative, it was distinct, it had energy and ambition. We need to be the leader in our industry again. My job would be to give all our stakeholders, colleagues, customers, brokers, clients and investors reasons to believe again. From now on, Aviva will be thinking and acting at pace."
This strategy all starts with the people at Aviva, Blanc said - she wants the business to be the best place to work. Since joining the Aviva board she has seen that the business's staff are dedicated, experienced and keen to see the company succeed. But Aviva needs to unify the entire organisation around its shared purpose, she said, to set a firm strategic direction for the business and to ensure that it takes its people along on that journey. Greater diversity, not just of gender and race but also of thought, is required and Aviva must increase the pace of its decision making and change its current ways of working.
"The pandemic has acted as a catalyst to reimagining how we run our business, how we meet demands and through what channels we will accelerate that change," Blanc said. "We need to make it easier for our customers to deal with us, have clear internal processes and a more straightforward structure. We do not have a day to waste."
Blanc highlighted that brokers play a pivotal role in the journey that Aviva is taking, as over 80% of its business is intermediated. It's very important that Aviva has strong relationships with its brokers, with its agents but also with its customers. Looking to the future, Aviva will invest where it is sure the investment will deliver sufficient returns as well as marked benefits for its customers. Where it sees a value opportunity to invest in growth, this opportunity will be taken.
For investors, the underperformance of the business in recent years will be addressed, she said, and an ambitious strategic path will be laid out. Aviva will look at all its business portfolios and this too will be done at pace. Having served on the board of Aviva, Blanc already has a good idea of where the company's strengths lie and what actions it should take across its business portfolios and she intends to build a business that provides its investors with long-term sustainable value.
"This is a pivotal point for Aviva," she said, "the world has become a more uncertain place, markets are volatile, the depth of economic decline and the speed and nature of the recovery is unclear. Consumer behaviour is changing rapidly, accelerated by the pandemic. And people want organisations and businesses to better reflect the diversity of the communities they serve. The successful organisation of the future will need to be adaptable and flexible to respond to the changing environment and they will also need to be relevant. I don't underestimate the scale of the challenges we face but I am convinced that Aviva has a strong and vibrant future."