Barry Nilsson to boost family and insurance law expertise | Insurance Business Australia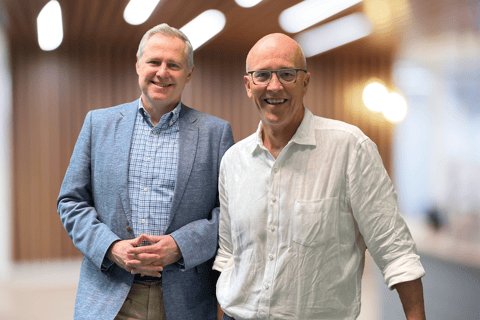 For its diamond jubilee year, national law firm Barry Nilsson (BN) has overhauled its look and strategic focus for 2023 to 2025.
Despite the past three years of economic upheaval and uncertainty, demand for BN's legal expertise – including its experience in complex family law matters and insurance class actions and test cases – has boosted the firm's total case load by 7.5%.
As part of its renewed strategy, 60-year-old BN will deepen its expertise in the areas of family and insurance law, defying the current "generalist" professional services trend of expanding into new business lines.
Rhett Kennedy (pictured, right), board chairman and national insurance & health lead principal at BN, said the BN board of management's decision to grow the firm's capacity and capabilities in family and insurance law over the next three years resulted from research and feedback from clients and staff.
"These insights confirmed BN's immediate opportunities for growth lie in expanding our recognised expertise within the areas of law in which BN is already a trusted advisor," he said in a statement.
Barry Nilsson's 2022-2025 strategy
BN's decision to refresh its brand and renew its strategic focus reflects its development into a respected national law firm that clients deemed "approachable, professional, and easy to deal with."
"Launching alongside BN's refreshed brand, our 2025 strategy consolidates the direction BN embarked upon 10 years ago while mapping a clear path for strong and sustained growth underpinned by a client-first approach embraced by staff at all levels," Kennedy said.
"Over the past decade, the firm has substantially expanded its geographic footprint from one to six states to deliver a truly national service offering," he said.
"At the same time, we have focused our practice areas on family and insurance law, which enables us to partner closely with our clients and the important stakeholders within these legal sectors."
BN's 2025 strategy also recognised the growing expectation among clients and employees for companies to clearly express how they will contribute towards achieving broader sustainability and social equity goals.
"For the first time, this strategy makes explicit, in our firm-wide values and objectives, BN's commitment to reducing our impact on the environment and our professional responsibility to creating a more inclusive, caring, and just society through our pro bono practice and Impact Project," Kennedy said.
"Principals and staff have wholeheartedly embraced our Impact Project and stepped up their pro bono work. In 2021-22, BN's Impact Project contributed $1.5 million in pro bono work, generated over $100,000 worth of donations and support for community groups, and halved paper usage and greenhouse gas emissions per employee."
Barry Nilsson's promotion spree in 2023
BN embarked on a promotion spree early this month, with a total of 18 appointments.
BN CEO Graeme Walsh (pictured, left) commented: "As a firm, we remain committed to nurturing talent and providing our people with career development opportunities that enable them to grow within their roles in order to deliver excellent outcomes for our clients."