COO mum on why "you need to abandon the guilt" | Insurance Business Australia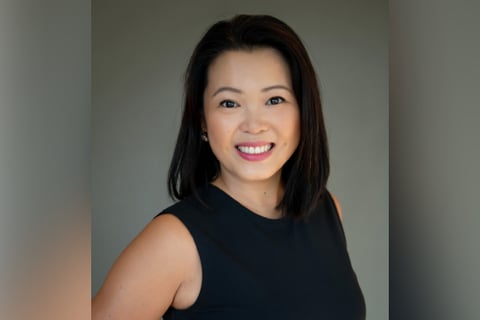 To say that former litigator and now C-level insurance leader Suzi Leung (pictured) is a highly driven and ambitious career woman is perhaps putting it lightly. Here, Zurich's general insurance chief operations officer for Australia and New Zealand – who is speaking at the Women in Insurance Summit 2021 in Sydney – shares her journey and enlightenment as a working mum in the professional fast lane.
Leung, whose insurance career began while she was still in law school, "absolutely knew and acknowledged" the male-dominated nature of her chosen fields but had no apprehensions whatsoever. At the time, the business degree holder also wanted to explore the corporate side of things and found the "perfect" opportunity.
"Zurich was actually hiring at that stage law students in particular, because they really wanted some people with legal backgrounds to join their claims team," recalled the COO. "It was in the personal injury side, so it was highly regulated and highly litigated as well. And so I thought, 'This is a perfect fit; this fits my background completely'.
"So, I applied and I joined Zurich back then, and I worked in claims for around two years and I just loved it. There was actually nothing that I disliked. I loved the culture; I loved the learning; I saw so much opportunity for growth."
After finishing her law degree, Leung went on to accept an offer to practice as a litigator. But her Zurich stint definitely stuck with the then solicitor, who eventually decided to make an insurance industry comeback.
Over the years, Leung has held claims and operational posts within Zurich not only Down Under but also in Switzerland and North America. It was in January 2021 when she was named COO of the company's general insurance business in Australia and New Zealand.
The road to the top, however, had not been entirely bump-free. In 2017, Leung had to resign when her young family – Leung's daughters were aged three and one at the time – had to move to the US for her husband's work. Prior to their eventual return at the end of 2018, Leung didn't take up any employment and instead spent her days volunteering and staying home with the kids.
In 2019, Leung took on a contract project role at Zurich, enabling her to deal with the whole end-to-end process of insurance while resolving a major issue.
"I had no interaction whatsoever with any of the people that I had worked with previously," she told Insurance Business. "I was sitting on a totally different floor; everyone I was talking to was a completely different group of stakeholders. So, it was like starting all over again, but I was so energised.
"I like fixing things. I like being handed a problem and unravelling it and then coming through and proving that it works again. And this one was really complicated, and I was given incredible latitude by Zurich. I had the latitude to restructure teams, to restructure our offshore engagement, and to completely change things. A lot of faith was put in me for that, which I found incredibly empowering."
Moving forward and letting go
It was that challenging project, which Leung thoroughly enjoyed, that paved the way for her insurance comeback version 2.0. And this time around there's no slowing her down.
Now, for anyone who thinks mums can't be career women or career women can't be mums, Leung has this to say: "I hear you. I felt exactly the same way myself for a good long time, because I was incredibly focussed on my career before I had kids. And then when I had kids, I really battled between wanting to be a good mother and still wanting to grow my career. And I just didn't know how to do it, to be honest.
"I thought being a good mother meant that I had to work part-time. I felt like I couldn't put my children into daycare five days a week, for example, so I should work part-time and be with them. But then I felt like I wasn't great at work as a result, and I felt unseen at work. I felt like opportunities went over me, and that really hurt. It was a really difficult couple of years where I was just like, 'How can I be both?'"
Leung, who for both her pregnancies took a year of maternity leave and returned to work on a part-time basis, said it wasn't until that time in the US when she didn't work that she made an important realisation.
"Having more time with my children doesn't make me a better mother," Leung declared boldly. "Having more time doesn't make me a better mum. They don't love me any more because I'm there 24 hours a day; they don't love me less if I'm not there 24 hours a day. And I realised that what was really important was that my kids grew up with a mother that was happy with herself and with what she was doing.
"That was when I went, 'You know what, when we move back to Australia, I'm really throwing myself back into my career again'. And it's been great, because now I can show my kids that it's not just Daddy that could do it. And it's important to me to be a really positive role model for my daughters."
For the C-suite executive, it's about making a choice and letting go of negative feelings surrounding it.
"For the women who are going through it, all I can say is I know what they're feeling because it wasn't that long ago that I was going through it myself," she asserted. "A really good advice that was given to me by a mentor when I was struggling was you need to pick which lane to swim in.
"If you pick the slow lane because you're stepping out to prioritise your family because your babies are young and whatnot, then great. If you're picking the fast lane because you want to accelerate your career, then great as well. There's no right or wrong. But whatever choice you make, you need to abandon the guilt that comes with the choice."
Leung went on to state: "If you're choosing to swim in the slow lane, then you need to let go of any grudge or resentment over your career not accelerating. And if you're choosing to swim in the fast lane, like I have now, I need to let go of the guilt of knowing that my kids are going to after-school care five days a week and I will not be there at every school assembly.
"Those different things that they have at school, I probably won't be able to attend every single one of them. And, sure, that sucks and I would love to attend all of them, but this whole 'having it all' or having it both ways, you can only do so much. I was unhappy for years, because I just didn't know how to move forward."
Leung is among the speakers at this year's Women in Insurance Summit Australia taking place on August 05 in Sydney. Register now.