Delegates delighted by ANZIIF's 2022 Australian Insurance Industry Awards | Insurance Business Australia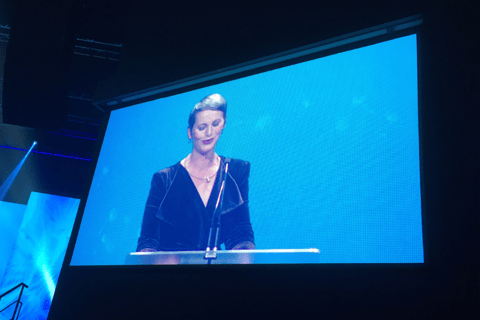 Glitz and glamour rained down on The Star in Sydney on Thursday evening, when about 750 delegates assembled for the Australian and New Zealand Institute of Insurance and Finance (ANZIIF) 2022 Australian Insurance Industry Awards.
Across 17 categories, a range of industry players were recognized for their achievements during an Oscars style awards ceremony. Insurance Business Australia was one of the lucky invited guests and enjoyed all the fun and camaraderie.
The evening kicked off after foyer drinks with an indigenous welcome from David Barnett. He reminded guests that they were sitting in a very ancient location familiar to Australia's first human inhabitants.
"About 60,000 years ago, I've been told by scientists, Sydney Harbour was basically a creek up Parramatta river, so we would have walked across it," said Barnett, a descendant of the Dhurag and Derrubbin nations along the Hawkesbury River region of NSW. "So, welcome on behalf of all of our people and I hope you have an awesome night."
Read next: ANZIIF reveals finalists for 2022 Australian Insurance Industry Awards
Prue Willsford (pictured above), ANZIIF's CEO, started her welcoming address by observing the hundreds of assembled guests.
"Well, well, well! Look at this room, you look fabulous!" said Willsford, who also looked fabulous in her chocolate velvet suit. "It is so good to have the gang back together."
This year's 18th annual ANZIIF awards saw the introduction of new categories, including Excellence in Environmental, Social and Governance Change (ESG). The award recognised outstanding ESG business strategies and practices.
"Judges commended each finalist for demonstrating outstanding change in ESG," said Mathew Jones, general manager of public affairs at the insurance Council of Australia (ICA). The finalists were Honan Insurance, Insurance Australia Group (IAG), QBE and Swiss Re.
However, Jones, who presented the award, said the judges regarded this year's winner as "a standout" in the category.
"The judging panel were particularly impressed with their dedication to climate action through net zero commitments," he said. "They also embedded a number of ESG policies into their business to help achieve ESG sustainability."
The winner was QBE.
"This is a testament to the hard work that's gone on across the whole organization over five years to really embed our ESG values across QBE," said Sue Houghton, CEO of QBE Australia Pacific as she accepted the award.
Houghton said the award recognised five years of work to "really embed our ESG values" across the company.
"In particular, we're really proud of our commitment to sustainability, the roadmap to net zero, our working to bring in 100% of our electricity [in] through renewables and also in diversity," she said.
Houghton said 44% of QBE's board is now female.
"So we're really proud of these achievements," she said.
Comedian and writer, Craig Reucassel, best known for his work with The Chaser, hosted the night with witty aplomb. As he announced the Underwriting Agency of the Year Award (won by CHU Underwriting Agencies) Reucassel pondered if he should announce an overwriting award next. Then, he suggested, possibly a straight writing award for a firm that actually wrote on the correct level.
Read next: ANZIIF swoops for insurance leaders as new board members
EY audited the awards. Walter Poetscher, EY's Oceania Insurance leader, summed up the quality of the awards finalists.
"The last two years have been extraordinary with insurers having to navigate unprecedented complexities and pressures resulting from the global COVID-19 pandemic, changes in consumer needs and behaviour, a steady pipeline of regulatory change and an increasing focus on sustainability," he said. "However, the 2022 ANZIIF Insurance Awards submissions demonstrate that the local insurance industry is well placed to respond and address these challenges head on."
This week, another huge industry event is due to take place. On Friday September 2, Australia's insurance industry elite from around the country will converge on Doltone House on Sydney Harbour for the 2022 Insurance Business Australia Awards.
The 22 IB Awards will have the glitz and glamour of a pre-awards cocktail reception, red carpet, dinner banquet and awards ceremony – and, of course, live entertainment throughout the evening.
"It can't be understated just how important it is to extend external recognition to those who strive for excellence in their professional field," said James Toth, founder and director of Kona Recruitment (Kona).
The intense work of brokers, insurers, underwriters and authorized representatives (ARs), both firms and individuals, will be recognized in 25 prestigious categories.