Ethos Broking Australia chief: "Our door is very wide open" | Insurance Business Australia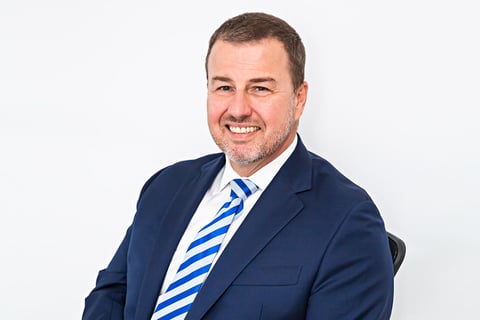 Ten days in as Ethos Broking Australia chief executive, things are looking packed for Adrian Kitchin (pictured) as the new The Ardonagh Group unit sets out on its growth journey.
"The pipeline is looking really strong," Kitchin told Insurance Business. "What Ethos allows us to do is to focus on licensed insurance brokers and other insurance assets in the market. What it means is that we can fulfil the needs for pretty much most of the businesses in the Australian market that meet our appetite – whether that's to sell part equity and for us to help them accelerate their growth in a way that they can't do organically, or for those businesses that are seeking an exit from the industry we'll do that in a disciplined way that helps them to maximise on their exit.
"We actually completed [an acquisition] before the launch of Ethos Broking. It's part of Resilium Partners. Resilium Partners is where we are partnering with authorised representative businesses to bring them into Resilium under an acquisition model. So, we have two acquisition models – Resilium Partners which is where we partner with authorised representatives, and Ethos Broking which is where we partner with licensed insurance brokers."
Resilium Partners is part of Resilium Insurance Broking, the Australian intermediary network which earlier this year came under the umbrella of rapidly expanding UK giant Ardonagh. Meanwhile Ardonagh brand Ethos Broking Australia – whose British counterpart has already made its third swoop for 2021 – came to life on June 01 under Kitchin's leadership. Prior to his CEO appointment, Kitchin served as managing director of Resilium where he will remain as a director.
Read more: What's next for Resilium Insurance Broking?
"Ardonagh has been very acquisitive in the UK, but at the same time they've also been very disciplined in the way that they've gone about their acquisitions," noted the Ethos Broking Australia chief. "They have formed a new entity called Ardonagh Global Partners which is expanding Ardonagh's operations around the world, with Australia one of the jurisdictions. So, we will be using their resources as well as our own to be acquisitive in the same way that Ardonagh has.
"We're very happy to look at all sorts of insurance assets, but we will run a process in a disciplined way as Ardonagh and Ethos have done in the UK. Our pipeline has been pretty full just from people that we know and people that have been approaching us that are interested in our model, but certainly our door is very wide open to have conversations with folks that we may not have necessarily had a conversation with in the past, to talk about what their options might look like under the Ethos model."
According to Kitchin, they are looking to partner with growth-focussed and entrepreneurial brokers – those who want to "turbocharge growth" with Ardonagh's support. It was stressed, though, that their identity and independence will remain intact.
Read more: Ethos Broking arrives in Australia
The CEO told Insurance Business: "We respect the hard work that people have taken to build their brand to build their business, and we certainly have no intention of disrupting that. If someone has a powerful brand to market, it would be in our best interest to continue to maintain that; in fact, to promote it even further into the market."
As far as outlooks go moving forward, Kitchin highlighted the resilience of the insurance industry – a sector that he described as "so interesting" and one that he deliberately chose to be a part of instead of stumbling into.
"If 2020 showed us anything," he asserted, "it's that insurance businesses are incredibly resilient. I look at our own practices and I also look at the broader industry statistics, and insurance has been very strong. It's certainly being challenged by COVID, by shutdowns, by the various issues that have been thrown up, but it's incredibly resilient.
"From an investment perspective, insurance has proven itself through some of the toughest times to be a great place for us to be putting our capital. In terms of an outlook for Ethos, that plays into exactly what it is that we want to do, which is to invest in insurance businesses because they are such fantastic investment opportunities, both for the operators or business owners and for us as an investor."