"For every damaged home, there's a family or a story behind that" | Insurance Business Australia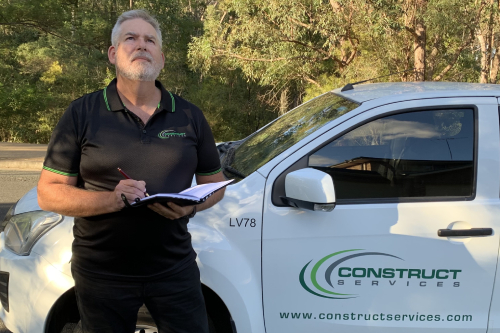 Scott Cooper (pictured) is only on his fifth week at insurance repair specialist Construct Services, and already the newly hired catastrophe & events manager has imbibed the company's 'we look after people, not just claims' philosophy.
Speaking with Insurance Business, the Zurich and Suncorp alumnus said of his career shift: "It's been a really interesting transition from working in a major insurer to coming to this side of the fence and looking at working in a supplier relationship back to those insurers now."
"I've identified the things that I valued most when I worked with [Suncorp], and I'm honing in on those things now and tweaking some of them to just separate out Construct Services a little bit further from the pack," noted Cooper. "So, really good complementary skill sets in terms of having had that same customer focus that a large insurer has, I find that here at Construct.
"We're about looking after people, not just about claims. As a consequence of that, that really resonates with my personal value set as well. I do catastrophe work because I find that it gives me the greatest ability to impact the largest number of people and to lift them up after something that's genuinely pretty harrowing that they've been through."
Hitting the ground running, the catastrophe & events manager was recently on-site in Kalbarri and Geraldton as part of the company's Cyclone Seroja response. Cooper shared that they're done with the assessment stage and are now moving into the recovery phase, with Construct Services working with partners to get repairs underway.
"The recovery phase is all about making sure that we know what works are required for each individual property," explained Cooper, who is "thrilled" to be onboard. "So, there's a role in project management around getting the various trades in to start doing that work; it's around working with our client insurers and our client loss adjusters and the brokers to keep everybody in the loop.
"It's about maintaining connection with individual customers and making sure that they're aware of the progress of repairs, and I think by and large it becomes a really important communication role. But the second part of my role here is to build out the best catastrophe response team across Australia. That's the challenge that's ahead of me at the moment."
He went on to highlight: "There is a great team of people already here at Construct, and we're leveraging those guys to do that work with us at this point in time, but my future focus is on being able to have a guaranteed capacity to ensure that we've got service levels that our clients can rely upon, being strong on response times."
One of the things Cooper is thankful for is the national builder's loyal, strong, and high-calibre trade base, which he said gives Construct Services "great confidence" in delivering a first-class claims outcome. He also drew attention to the longevity of the business, which has been responding to insurers, loss adjusters, brokers, underwriting agencies, and customers and their communities for over 30 years now.
"I think that the trade base that we have at our disposal has meant that we've been able to respond to events and catastrophes on both sides of this country," added Cooper, whose general insurance experience spans more than two decades.
"At various different times where communities have been in lockdown or travelling between states has been difficult, being able to have a workforce in every state and being able to have a team of various tradespeople to work with, has enabled us to keep on with the ability of repairing homes even in difficult circumstances."
As for the timeline of Seroja repairs, he stressed that just as the damage to properties varies, repair times will vary as well. Naturally, properties that were more catastrophically impacted will take longer to repair, and Cooper said the work has already started on those.
"The opportunity is being able to get people back into their homes, get repairs finished, and get repairs to businesses completed so that they are back up and running," noted the sector stalwart.
"When I was first starting to talk to Construct Services, I was quite taken with their culture and their values, and I could see myself working here. I've got some good ideas around where I think we can differentiate ourselves in the market, and I'm thrilled to bring those to life."
Cooper added that, amid climate change, we're not about to see fewer catastrophic events but instead are going to witness not only a higher frequency but also an increased severity when it comes to catastrophes.
"In the last, say, five years I have really drilled into and decided that my future is in catastrophe management," he declared. "So, I really pursued this as where I'm taking my career - and this is where I intend to specialise, to help communities get back on their feet. I really am passionate about this, and I'm fortunate that I've been able to work with some really strong people in the industry.
"And the fact that my values align so well to the values that Construct Services was sharing with me – this entire view of looking after people, not just claims – is so important. We can repair homes, but it's the way in which we take care and make sure that we do as much as we can to eliminate the stress from the customer on behalf of insurers and loss adjusters, that's what I'm most proud of."
Cooper, who spent years in event response in his previous capacity, went on to tell Insurance Business: "For every damaged home, there's a family or a story behind that, and we have to honour that. These customers didn't ask for this to happen to their community. And I find this work to be so valuable and fulfilling for me because it gives me that ability to uplift not just that individual customer but the community that they live and work in as well."