From office to remote work: Aussies stressed about festive season | Insurance Business Australia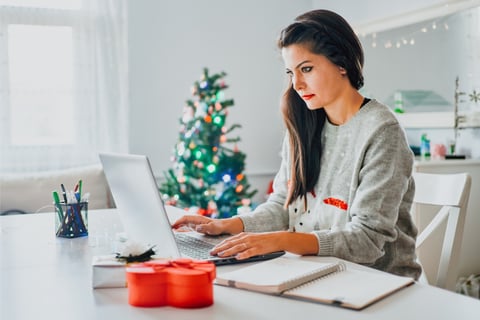 December is usually a month full of festivities and relaxation, but a new study has revealed that Aussies are stressed about the festive season because the COVID-19 pandemic has blurred the line between home and work life.
Allianz Australia's (Allianz) latest research showed that many Australians find miniscule differentiation between work and home life after two years of working remotely due to the pandemic – with the Australians who participated in the study describing 2021 as a "rollercoaster" (43%), taxing on their mental health (32%), and "lacked work-life balance" (20%) – with over a third (37%) admitting they were unhappy that their office space was inside their house.
Among the respondents, 89% shared that they are "over this year" and are ready for the summer break, but two in five (41%) cannot switch off as their home has turned into their home office.
Whether they are working in their spare bedroom (31%), the kitchen table (6%), or in their lounge room (9%), the respondents agreed that it is time to switch off and prioritise their personal lives (57%).
Read more: Allianz outlines "ambitious" targets for next three years
According to Allianz's research, Australians have mixed feelings towards what the New Year holds. While many Aussies are looking forward to returning to "normal life" (52%) and having the choice to work in the office or remotely (44%), their main concerns are around work-life balance (22%), the home office suffering (12%), and commuting to work (10%).
Moreover, despite wanting to enjoy the holidays, the respondents openly admitted they were not making the conscious effort to pack down their desks (71%) or turn off their notifications (61%) – making it nearly impossible to log off work properly. As a result, nearly three-quarters (71%) were stressed about the upcoming holidays.
Gina Ciancio, an interior stylist, said simple updates can reinvigorate your space ahead of the holidays even though you are working at home.
"Amidst the celebrations with family and friends, this is also a great time to reflect on what did and didn't work for you in your space and look at small ways to improve this, such as decluttering old files, considering new storage solutions, and even returning the room to its original intention," Ciancio added.
Meanwhile, Julie Mitchell, chief general manager for personal injury at Allianz Australia, advised Australians to use the holiday season to reclaim their homes by creating mentally healthy working spaces.
"Amongst reconnecting with family and friends and getting some much needed down time after the year that was, it's also essential to prioritise reflection and [look] to how we can start the New Year in the best place possible. And with most Australians continuing to work from home, our home offices are a perfect place to start," Mitchell added.