Insurtech Summit reveals $20k prize winner | Insurance Business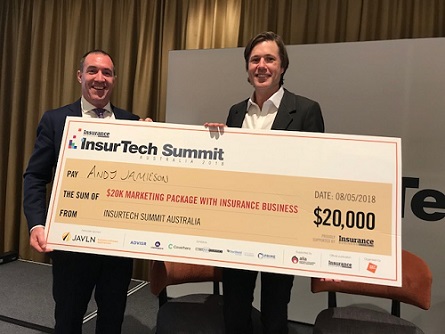 Broker-focused insurtech firm Advisr has taken out the top prize at the inaugural Insurance Business Insurtech Summit held in Sydney this week.
As part of the Tech Den start-up competition, Advisr CEO Andy Jamieson pitched his online platform against three other burgeoning insurtech firms and was named the winner of a $20,000 marketing budget with Insurance Business.
Advisr is an online platform that connects customers and brokers, allowing for customer ratings and reviews with the aim to build trust between brokers and clients.
Judged by Grant Chamberlain, principal at One Ventures, Harvey Liu, investment associate at Tank Stream Ventures, Joel Pridmore, head of financial lines and business development Asia at Munich Re Syndicates and Abhay Seth, head of Innov8 at Singtel Optus, each of the start-ups were given three minutes for a presentation of their business followed by questions from the judging panel.
In his presentation to judges Jamieson detailed the work of the platform and how it can help boost both brokers and their businesses.
"We know that independent platforms like this are driving business growth across service based industries," Jamieson told judges and attendees. "Right now on our platforms, businesses are growing, things are happening, and we have seen that."
Jamieson said that the real aim of Advisr is to help build trust with brokers and clients – citing Roy Morgan research which highlights only 10% of Australians trust insurance brokers.
"We know that the best way to build trust is to educate people. We are building world class content to help to educate customers around all the different areas of insurance lines," Jamieson continued.
Pitching against insurtech firms Claimspace, DevCon Technologies and Cyber Risk Assurance, Tech Den first ended in a dead heat as the four judges couldn't separate the quality of presentations. After a second vote, Jamieson and Advisr were named the winners.
"From a guy who deals in the market every day and deals with brokers on a daily basis I think this is a fantastic idea," Pridmore said.
"I think that the industry, and it frustrates me as well, is undervalued and misunderstood. I think a lot of that is because there isn't this sort of community enablement of rating and understanding who is good and who is not. I think it [Advisr] is really, really good."
Jamieson also announced Advisr's success guarantee which ensures that all brokers who sign up for a premium profile on the platform within the next 12 months will receive a second year on the service free of charge if they don't close $5,000 of GWP.
"We are confident in our platform and know that it delivers results," Jamieson said.
Related stories:
Could insurers disappear?
The future of insurtech regulation