Is flood insurance worth having in Australia? | Insurance Business Australia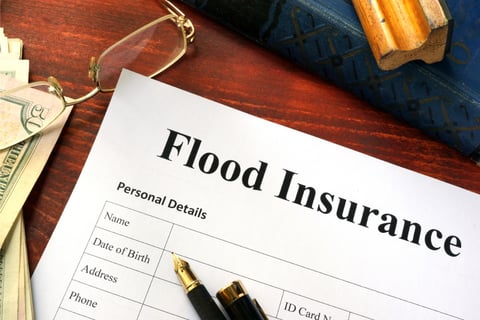 More than a million private properties, or about one in 10 homes, in Australia are exposed to some level of flood risk, according to a recent fact sheet published by Insurance Australia Group Limited (IAG).
The Flood Fact Sheet – which was developed by the insurance giant's natural perils team, comprising of climate scientists, meteorologists, hydrologists, engineers, statisticians, and actuaries – also identified the local government areas (LGAs) that were at the highest risk of flooding.
Based on the total sum of premium at risk – the key metric that the researchers used – Brisbane and Townsville in Queensland, and Central Coast, Clarence Valley, Hawkesbury, Kempsey, Lismore, Shoalhaven, Tweed, and Wollongong in New South Wales were the 10 most flood-prone LGAs in Australia. The table below lists the LGAs in each state and territory that face the highest risk of flooding, according to IAG's research. The Australian Capital Territory was excluded from the list because it has only on LGA.
| State/Territory | Local government area |
| --- | --- |
| New South Wales | Central Coast, Clarence Valley, Hawkesbury, Kempsey, Lismore, Narrabri, Richmond Valley, Shoalhaven, Tweed, Wollongong |
| Queensland | Brisbane, Bundaberg, Cassowary Coast, Cairns, Gold Coast, Ipswich, Moreton Bay, Noosa, Rockhampton, Townsville |
| Victoria | Benalla, Campaspe, Frankston, Greater Bendigo, Greater Geelong, Greater Shepparton, Maribyrnong, Melbourne, Mornington Peninsula, Wyndham |
| Western Australia | Bassendean, Belmont, Bunbury, Busselton, Carnarvon, Greater Geraldton, Harvey, Murray, Swan, Stirling |
| Tasmania | Central Coast, Devonport City, George Town, Huon Valley, Latrobe, Launceston City, Meander Valley, Northern Midlands, West Coast, West Tamar |
| South Australia* | Burnside, Gawler, Mid Murray, Murray Bridge, Renmark Paringa, West Torrens |
| Northern Territory* | Alice Springs, Katherine |
Source: IAG Flood Fact Sheet 2020
*Note: SA and NT have fewer LGAs and lower risk of flooding
Australians can also visit the government's flood risk information portal to get an estimate of the risk of flooding in their areas. Developed by state and territory governments in partnership with the insurance industry, the portal also contains flood maps, flood studies, and details for surface water observation analysed with satellite imagery.
Read more: Townsville floods: the story on the ground
Geoscience Australia, the country's national geoscientific research agency, also noted in the portal that just because an area has not experienced flooding in the past, it does not mean it would not be flooded in the future. Similarly, areas that have been flooded might not necessarily face flooding later. For this reason, the agency said that flood insurance might be worth investing in.
What does the insurance industry consider as flooding?
The Australian government defines flood as "the covering of normally dry land by water that has escaped or been released from the normal confines of any lake, or any river, creek or other natural watercourse, whether or not altered or modified; or any reservoir, canal, or dam."
Following the massive flooding in Queensland in 2011, the government established this standard definition of "flood" for the insurance sector, with the intention of making flood cover a mandatory part of insurance policies. Although the government's plan did not materialise, its definition of what constitutes flooding was retained by the industry.
Read more: Insurers step up flood definition clarification
How does flood insurance work?
Flood insurance is designed to protect the home and its contents against losses caused by a sudden deluge of water. This type of coverage is not always included in a standard home and contents insurance policy but can often be purchased as an add-on.
Some home insurance companies offer flood cover as a standard inclusion but allow policyholders to opt out. Others set coverage limits, meaning the amount that can be reimbursed may not be enough to cover the full cost of repairing flood damage.
Read more: S&P Global confirms Australian insurers' ability to manage large flood-related claims
What does flood insurance cover?
Most flood insurance policies provide cover for losses and damages resulting from water escaping from its natural confinements such as rivers, creeks, and catchment systems, and sudden rainwater run-offs, including those from overflowing storm drains. Escaped liquid or water from burst pipes or overflowing sinks within the property are most likely covered as well. Some policies also offer coverage for flooding due to storm surges, but this is not standard.
As for exclusions, losses or damages caused by "actions of the sea," including tidal flooding, tsunamis, or rise in seawater level, are mostly not covered. Flood insurance also does not provide a payout for man-made flooding such those resulting from home renovations.
Insurers offering flood coverage in Australia
Here are some insurance companies in the country offering flood coverage as part of their home and contents policies. All information is correct as of February 2022:
Insurer/Policy name

Flood coverage offered

ANZ Home & Contents Insurance

Loss or damage caused by storm, rainwater, flood, or wind

Australian Seniors Home & Contents Insurance

Loss or damage caused by storm or flooding as part of basic cover

Budget Direct Home & Contents Insurance

Storms and rainwater, including escape of rainwater from any water pipe, drain or gutter; and surface run-off of rainwater from surrounding areas that occurs within 24 hours of a storm or heavy rain
Escape of liquid in the home, including water damage caused by burst or leaking water pipes and overflowing sinks, basins, baths, and appliances

Coles Home Insurance Plus

Loss or damage caused by flood, which is defined as the covering of normally dry land by water that has escaped or been released from the normal confines of any of the following:

a lake (whether or not it has been altered or modified), or
a river (whether or not it has been altered or modified), or
a creek (whether or not it has been altered or modified), or
another natural watercourse (whether or not it has been altered or modified), or
a reservoir, or
a canal, or
a dam

Huddle Home & Contents Insurance

Loss or damage caused by flood, storm, and rainwater

Kogan Home & Contents Insurance

Replace items and repair damage caused by earthquake, lightning, storm, flood, and rainwater
Replace items and repair damage caused by the sudden, unexpected, or accidental escape of liquids, such as sudden burst pipes

QBE Home Insurance

Damage caused by storm, storm surge, rain, hail, or flood
Damage caused by landslide and/or subsidence that happens within 72 hours of, and as a direct result of the storm, storm surge, rain, hail, or flood

Real Home Insurance

Loss or damage to building and contents (as applicable) caused by storm, rainwater, and flood
Damage caused by sudden, unexpected, or accidental escape of liquids, such as sudden bursting of pipes

St. George Home & Contents Insurance

Loss or damage caused by flood and flood water, combined with run-off and rainwater, with 72-hour exclusion period
Loss or damage caused by or arising from soil movement, including erosion, landslide, mudslide, or subsidence if it is caused directly by and occurs within 72 hours of a flood

Virgin Money Home & Contents Insurance

Loss or damage at the insured address caused by flood, defined as the covering of normally dry land by water that has escaped or been released from the normal confines of:

a lake, river, creek, or other natural watercourse (whether or not any of them have been altered or modified)
a reservoir, canal, or dam

Westpac Home & Contents Insurance

Loss or damage caused by flood and flood water, combined with run-off and rainwater, with 72-hour exclusion period
Loss or damage caused by or arising from soil movement, including erosion, landslide, mudslide, or subsidence if it is caused directly by and occurs within 72 hours of a flood

Woolworths Home & Contents Insurance

Damage to building or contents caused by storms, rainwater, or flooding
Loss or damage to your building or contents caused by the unexpected escape of liquids from sudden burst pipes, taps, dishwashers, and more