It's cherry harvest: the insurance challenge of getting cherries to China | Insurance Business Australia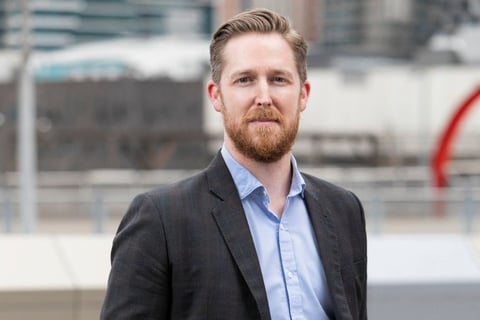 Across Australia it's cherry harvesting time. According to Cherry Growers Australia (CGA) about 20,000 tons are being harvested across all six states with about 50% of that volume heading to export markets. China is our biggest customer, where the locals are stocking up for Chinese New Year on February 01. The Chinese like to give away cherries during their celebrations, symbolising success, happiness and love.
However, getting perishable produce like cherries to the Chinese right now is a challenge for insurance companies that manage transport and logistics insurance.
"With the weather the way it is, with the delays in logistics, the slowdowns at ports, it really is a challenging time and obviously these goods perish over time," said Daniel Morrison (pictured), national cargo product manager for transport and logistics insurer NTI.
As the harvest gets into full swing for many fruit and vegetable farmers, including cherry producers, the recent floods across NSW and Queensland have only added to logistical and cost problems.
Since September, when companies traditionally rush to fill their stores with stock for Christmas, there's been an extreme shortage of space on ships and a lack of containers. COVID-19 impacts had already pushed the cost of freight to extreme levels. NTI's logistics risk engineer, Kurt Herron told Insurance Business that the cost of a 40-foot container from China to Australia was costing between $5,000 to $7,000. Pre-COVID the cost was closer to $2,000.
Read more: Why are freight costs so high right now?
Those pressures haven't gone away.
"It's still terrible but it's levelled out at terrible," said Morrison.
According to the container shipping research website Sea-Intelligence, only 30% to 40% of shipping vessels are delivering their goods on time compared to twice that percentage pre-COVID. Delays are worse too, averaging about seven days compared to about four days before the pandemic.
For fruit and veg producers, like cherry farmers, the wet weather has added another issue.
Morrison said the wet weather is affecting some of the fruit quality and the ability to move the fruit from farms if the roads are flooded and trucks can't get access.
"Then they've got to get it to the port, then they've got to find a ship, they've got to have a container available," he explained. "The accumulation of problems, the weather at the moment, along with the global logistics, it really is a challenging time for fruit and veg growers."
The insurance that a company like NTI offers to cover the transport of fruit goes above and beyond the usual physical loss and damage coverage that applies to non-perishable items.
"Standard cover for fruit and veg, cherries included, is for deterioration," said Morrison.
"With refrigerated products we also cover loss or damage due to the refrigeration not functioning properly and not being adequate for the journey. So, if the refrigerator container breaks down halfway and they open it all up and the fruit's all mouldy, then that's covered."
Bigger producers often buy extended cover that includes delays, which are usually standard exclusions.
"They've got to have risk management in place to show how they're making sure things don't get that way but basically any deterioration, regardless of how it happened, if it's delay or a problem with the container or any other cause, then most of those losses are also covered," said Morrison.
He added that, so far, he's only seen a slight uptick in claims from producers for deterioration.
"It's not horrendous yet but in my mind there's still a lot of vessels that haven't arrived, that should have arrived by now," he said. "So potentially there's some things sitting on board vessels that we don't know about yet. So, I don't expect it to improve at all, I expect it to continue to be a bit challenging."
He said to avoid delays, some producers are finding alternate ways of shipping
"Out of South Africa and a few other countries they're basically using floating fridges, so huge refrigerated vessels instead of normal container services to get their fruit to end market on time," he said.
Morrison added that industry stakeholders don't expect the delays, congestion and high costs in the shipping and cargo sector to return to more acceptable levels for another two years.
"Probably evidence of the seriousness of it is the White House has pushed very hard to get investment in logistics over in the US," he said. "So if they're paying attention to shipping in the White House with all the things they've got to worry about, you know it's a big problem that needs to be dealt with."
Morrison encourages brokers to maintain open lines of communication with their fruit and vegetable producing clients.
Read more: What will Australia-China relations look like in 2021?
"The fruit ripens when it ripens so they can't just hold onto it and wait for better times, so we know they have to transport it, but it is that constant communication with their freight forwarders and understanding when is the best time, what's available in terms of containers and what alternatives are available," he said.
If they choose a different method of transport, producers need to inform their broker and insurer.
"If they're making changes to the way they do things, talk to their broker and insurer to make sure they're aware so they have cover if something goes wrong," said Morrison.
Turkey is the world's largest producer of cherries. According to market data company Statista, in 2020 Turkey harvested about 900,000 tons of the fruit.