"It's the opportunity to have the metrics of people rather than just metrics of money" | Insurance Business Australia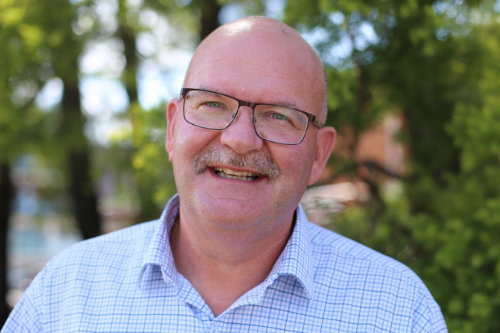 Grief counsellor, critical incident responder, and mental health first aider – Paul Reis (pictured) is all those things and more, and now the former Wesley Mission Queensland fundraising general manager is bringing his counselling background to a new post as High Street Underwriting Agency's first-ever people & performance manager.
Speaking with Insurance Business, Reis noted: "It's a huge growth area, this type of role. The reason being is with stresses and strains, whether it's COVID-related or life-related, there really needs to be a dedication to people's wellness and their health and what they value and 'what do I get out of working' and the dedication of their work. So, it's a real investment.
"It's essentially enhancing the employee experience at High Street Underwriting. That takes the form of a wellness programme delivered internally. It takes the form of a performance development framework. It also takes the form of a philanthropy programme, in which we'll initiate charity engagement, etc. So, it's a little wider than a traditional HR role."
According to Reis, who came onboard the Brendale-based underwriting agency on September 13, High Street will be introducing two programmes – C-me and C-others. The latter will be focussed on providing "quite a unique" philanthropy experience, while the other one will contain elements aimed at valuing the employee.
"It's very people-centred," said the key hire, "and ensuring that the experience as an employee at High Street will be enriched with sort of talent management and performance indicators, but also social connection, life connection, and corporate responsibility as well."
The pandemic may have highlighted the issues surrounding staff well-being, but Reis pointed out that the mental health focus has been a growing area even prior to COVID-19.
He stated: "That's mainly because of the rise of family breakdown, anxiety, depression, and various life stresses that are prevalent. I'm a grief counsellor by background. I'm a critical incident responder. I'm a mental health first aider. I'm also a suicide prevention facilitator.
"So, I've got that background. And all those areas have been growth areas, unfortunately – life stresses and the way life is unfolding for a lot of people. It's not indicated particularly to the insurance industry; it's right across the working population."
Reis is no stranger to insurance, though. In fact, before his foray into counselling and into not-for-profit-work later on, one of Reis's first jobs was with AAMI Car Insurance in Sydney and Tasmania. He joined the industry in 1982 as an insurance telesales staff and went on to assume managerial roles before switching careers in 1984.
Additionally, the new people & performance manager is no stranger to High Street as well. Reis has known the business for nine years.
"In my role in fundraising, I have a variety of people that give," declared Reis. "Some people give and need the recognition or to be recognised with the giving, and that's fine. But others are very true to their philanthropy and their heart by wanting to give just to make a difference, and I put High Street into that category.
"High Street, over the years, has been incredibly supportive, financially and involving employees and staff into programmes that give back into the community, but they've never sought to promote that externally or never sought to do that for recognition. It's always been for the benefit of impacting the community that they live in."
This longstanding relationship is also helping Reis in his transition into the High Street workforce.
He shared: "I've had a very incredible, welcoming experience my first two days. And I think it's because I'm known to probably half the staff already. Because of their engagement in walks and treks and fundraising activities over the last few years, there is already an existing relationship with many of the employees."
Reis, who describes himself as "pretty personable," added that he is very aware of not getting in the way of people's day-to-day business. Instead, he said, the goal is to enrich that experience by taking a consultative stance and ensuring that staff will be interviewed and surveyed and will have a voice as part of the company's programmes development.
"Underwriters that are writing on behalf of brokers, those relationships can be quite tense sometimes, in as much as there are deliverables for both parties," Reis went on to state. "And obviously, as an underwriting business, we value our customers, which are our brokers.
"So, how do we keep that value very high when there's been a claim, and maybe there's a critical incident within a claim? Then how is the staff member, handling the claim, looked after and supported? We already have a structure of management here at High Street, which is very good. So, I will be coming alongside the employees rather than managing them. My approach will be very much coaching."
Meanwhile, High Street is cooking up something not just for colleagues but for the wider industry.
Reis told Insurance Business: "We're going to have quite a unique volunteering programme that we're going to be drawing up that invites external brokers and underwriters in the industry along, and we're going to have a variety of volunteer experiences through charities.
"The other thing that we'll be doing is we're going to do an adventure trek programme in May next year. We've already booked the Flinders Ranges. We'll be taking a group of underwriters and brokers from the industry, external to High Street, and we'll be taking them on a five-day walk through Flinders Ranges while raising money for Wesley Kids at the same time."
For Reis, his appointment was the perfect opportunity that came at the right time.
"I've always had high levels of engagement in the metrics of people but never been solely responsible for it. I've always had the fundraising or the pressure of funds coming in, whereas I can push that aside now and just concentrate on the people. For me, it's the opportunity to have the metrics of people rather than just metrics of money," he said.
"I think it's quite a unique role. In this position, there are a lot of opportunities to make a difference, and for all our employees and our brokers to make a difference. I can connect them to community, I can connect them with colleagues, I can connect them with support, and I can connect them with coaching. There are so many opportunities, and my position here will allow me to do that."