Kennedys makes spree of senior promotions in Australia | Insurance Business Australia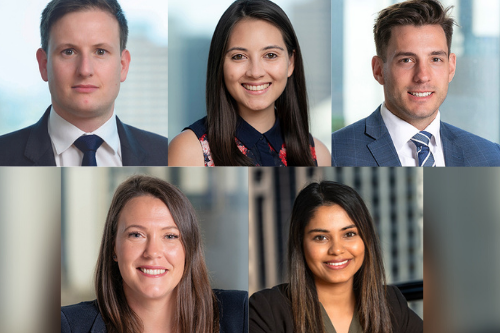 The Australian arm of the global insurance law firm Kennedys has announced its latest senior promotions, reflecting its continued growth despite the COVID-19 pandemic.
In a release, Kennedys confirmed it has promoted the following employees to senior associate:
Dilani Patrick, Healthcare (Sydney);
Ingrid Kristiansen, Healthcare/Insurance (Sydney); and
Nicholas Driver, Commercial (Melbourne).
Patrick, a specialist in healthcare insurance, acts for medical practitioners and private hospitals in the defence of medical negligence claims, disciplinary proceedings, registration issues, coronial inquests, and healthcare complaints. She is also an active member of legal communities in Victoria, particularly the LIV Young Lawyers' editorial and professional development committee, Law in Colour initiative, and through mentor and mentee relationships in health and medical law.
Kristiansen is an experienced insurance litigation lawyer with a strong background in professional indemnity, property damage, and personal injury. Her clients and peers have recognised her for her strong work ethic and thoughtful handling of sensitive cases, as well as her exceptional work on Kennedys' CSR charity support program.
Last but not the least of the new senior associates in the team, Driver is a commercial litigator with a wide range of experience acting for government, individuals, and private enterprises across several practice areas, including commercial litigation, ASIC regulatory investigations, administrative law, bankruptcy and insolvency law, oppressive shareholder conduct claims, and intellectual property law.
He has also conducted proceedings in the Supreme Courts of NSW and Victoria, Victorian Civil and Administrative Tribunal, and the Federal Circuit Court of Australia.
Read more: Kennedys moves ahead with annual salary raises
The law firm also promoted Edwina Fenwick (Insurance, Melbourne) and Jonathan Shakenovsky (Insurance, Sydney) to special counsel.
Fenwick is an insurance specialist acting for insurers and insured clients across a wide range of matters, including public liability, product liability, professional negligence, construction, and recovery claims.
Her clients, partners, and peers often highlight her technical skills, subject knowledge, and work ethic, along with her ability to handle complex cases. She has also been recognised for her role as a mentor to paralegals and more junior team members.
Shakenovsky is also an insurance specialist with a broad experience in dispute resolution and investigations, including significant and complex litigated and un-litigated commercial; professional services; and directors' and officers' disputes, investigations, and inquiries.
In addition, he is an expert in advising and acting for insurers on coverage and indemnity disputes, focusing on professional indemnity, D&O, financial institutions, and crime and fidelity. He has also been noted for his technical skills and success in complex litigation.
The promotions reflect Kennedys' commitment to nurturing the careers of its staff in Australia.
Matt Andrews, the managing partner of Kennedys in Australia, commented that the law firm's people continued to thrive despite the impacts of the COVID-19 pandemic, which is a "credit to them."
He added: "Throughout the peaks and troughs of the pandemic period, they have continued to deliver clients outstanding service and advice. Kennedys is focused on supporting our team's career aspirations. Congratulations to our new senior associates and special counsel on their promotions – they have earned it."
The Australian appointments took place alongside Kennedy LLP's global staff appointments. Globally, the firm promoted a record 86 staff to senior roles.