Lion Underwriting roars louder with revamped online presence | Insurance Business Australia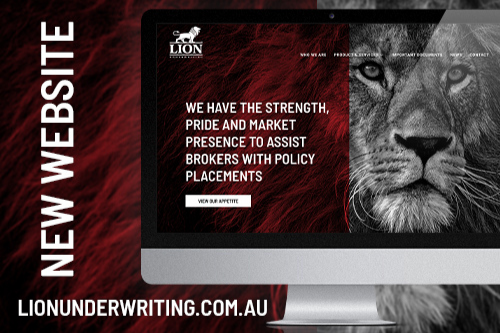 South Brisbane agency Lion Underwriting has shed its old mane, and here managing director Kurt Nilsen lifts the lid on the Lloyd's coverholder's move to roll out a new website.
According to Nilsen, the goal was to refresh Lion Underwriting's brand while making it easier for brokers to navigate the site, which also provides access to "all the important documents," given the code and compliance changes.
Created by Bark Productions, the website houses the firm's financial services guide, claims form, as well as its privacy policy and family violence policy.
"We don't put our policy wordings on there, [though]; not a lot of people do," noted the Lion Underwriting boss. "Also, we have updated our proposal forms – made them more user-friendly and to comply with the changes."
Read more: MD on Lion Underwriting's "big step forward"
The decision for the shift came about earlier this year, said Nilsen.
He told Insurance Business: "Because the company has been going now for over six years, we felt that the first website that we had was just getting a little bit outdated. And it was a good time to do it because all the compliance changes had to be made anyway.
"You will notice on our website that we have our live chat facility. Our company app has also been updated to follow the refreshed look. The next thing coming is just getting the message out around our updated product appetite."
Nilsen pointed to three existing offerings that the Queensland business will be pushing, marketing-wise: legal expenses cover, medical malpractice, and insurance for tattoo artists.