McLardy McShane conference a roaring success after two-year hiatus | Insurance Business Australia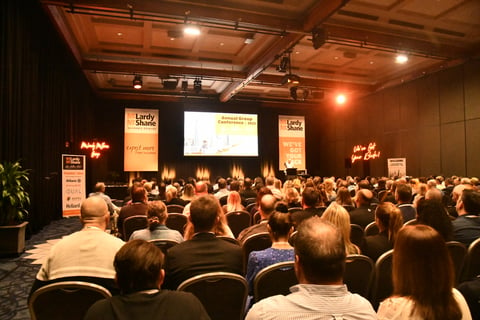 McLardy McShane Insurance Brokers' (McLardy McShane) 2022 Conference on the Gold Coast recently concluded, successfully gaining more than 300 attendees despite its two-year hiatus due to the COVID-19 pandemic.
The event started with a "One Helluva Ride"-themed night at Movie World, where the attendees had a chance to climb aboard some of the park's famous rollercoasters.
The following day, speakers at The Star Events Centre were Richard Harris (who played a key role in rescuing 12 trapped young soccer players and their coach from a Thai cave system in 2019), Trisha Squires (tsunami survivor and head of AFL Queensland), and Steven Bradbury (four-time Olympian). The event also featured a McMarketplace, enabling attendees to access 47 exhibitors or sponsors with interactive strands and many prizes.
Read more: McLardy McShane broker says PI market is still "really restrictive"
McLardy McShane hosted a 1970s-themed gala dinner as part of the conference experience, where it announced the 2022 award winners:
McLardy McShane Community Award – Matthew Kohler (Peak Consulting);
McLardy McShane AR Employee of the Year – Di Barry (Linx Insurance);
McLardy McShane Employee of the Year – Tania Uvarova (McLardy McShane Partners), Marie Vranjes (McLardy McShane WA);
McLardy McShane Rising Star (Branch) – McLardy McShane South East;
McLardy McShane Rising Star (AR) – Peak Consulting, Matthew Kohler;
McLardy McShane Rising Star (Individual) – Tahlia Coates (McLardy McShane Warrnambool/Horsham);
McLardy McShane Culture Award – Danielle Schwandt (McLardy McShane Partners);
McLardy McShane AR of the Year – Linx Insurance; and
McLardy McShane Branch of the Year – McLardy McShane Swan Hill
Commenting on the event's return, CEO Don McLardy said it was "really important" to bring back the conference.
"We build our business on personal relationships and seeing people regularly, and we believe heavily in the face-to-face environment, so not having everyone together for three years was pretty tough for us," McLardy continued. "While we've been ok, it's not the same as getting everyone together and sending a common message. It was really exciting to have our whole group there."
The event also saw over $150,000 raised to support The Reach Foundation, people with epidermolysis bullosa, and the GoFundMe page of Megan Affinita (an Elantis Premium Funding employee battling stage 4 cancer).