NTI's restored truck finds new owner | Insurance Business Australia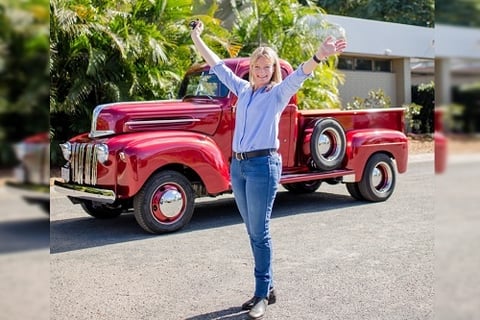 National Transport Insurance has awarded its latest custom-built 1946 Ford Jailbar to a lucky ticket holder at the 2019 Brisbane Truck Show, upon raising $113,087 for Motor Neurone Disease medical research.
Michelle Wilkie of Munruben, Queensland became Roxanne's new owner, after winning the raffle draw on the last day of the truck show, where the restored truck was displayed for the duration of the event.
Read more: NTI launches memorial research grant
The specialist insurer earlier announced that 100% of ticket sales would directly go to Trent Woodruff at the University of Queensland for his project, "Manipulation of free fatty acid receptors to tame the immune response in MND" via NTI's official Research Grant and MND Research Institute of Australia.
"Roxanne is the work of many hands and hundreds of man hours," said Tony Clark, NTI CEO. "It's been a genuine labour of love, not only for our NTI project team, but also our external project partners. The quality of workmanship and funds raised could not have been achieved otherwise."
NTI's project partners included Royan Truck & Trailer Repairs, Annvid Auto Upholsterers & Marine Trimmers, PPG Paints, Hy-Way Truck Accessories, Battery World, Isuzu Trucks, and TEKNO.
"This is the third truck we've completed now, the second to give away – but it doesn't make it any easier to send them off!" said NTI's Don Greer. "It's all for a good cause though. It's a gift that keeps giving; a legacy for our organisation, support for a disease impacting thousands of Australians, and an initiative that unites industry and community alike. It's a humbling experience. It's a day job that has the potential to make the world of difference."